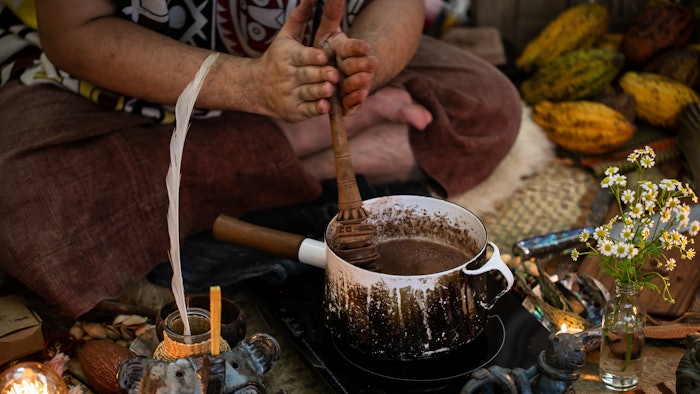 Pornpawit - stock.adobe.com
Cala Luna Boutique Hotel & Villas is an upscale organic and sustainable hotel in Guanacaste, Costa Rica, that remains green all year round. Their secluded accommodations are seamlessly blended with a lush jungle that draws more wildlife than anywhere else in the area. Cala Luna provides guests with home-grown, farm-to-table cuisine with ingredients directly from La Senda, holistic wellness treatments and spa therapies and a variety of inclusive amenities.
In addition to the hotel's retreat packages, guests can curate their own custom retreat, with activities including kirtan and sound baths, holistic yoga, live music and dancing, a mindfulness program for kids and more. 
"Our most important pillars are sustainability and wellness; we love to provide guests with an authentic and educational experience at La Senda," said Federico Pilurzu, general manager of Cala Luna Boutique Hotel & Villas. "From our guided meditation in the labyrinth to a tour of our organic garden, to our farm-to-table dining experience, there's something for everyone seeking a transformational travel experience that will inspire mindful practices beyond checkout."
Here are nine spa and wellness experiences that set Cala Luna Boutique & Villas apart. 
Related: 3 Unique Wellness Retreats to Inspire Your Programming
1. Guided Meditation in the Labyrinth
Cala Luna offers guided meditation in the largest labyrinth in the world, according to the upscale hotel, which measures more than 2.5 acres. Traveling through the labyrinth is a holistic experience that works on the body, mind and spirit.
2. Kirtan Concert in the Geodesic Dome
At the Kirtan Concert in the Geodesic Dome, everyone sits in a circle with musicians around an altar of flowers and candles at sunset overlooking the labyrinth to create an atmosphere of sacredness, ceremony, equality and oneness with a focus on group connection.
3. Sound Journey with Gongs and Crystal Bowls in the Dome
The Sound Journey with Gongs and Crystal Bowls in the Dome is allows participants to lie down and enjoy the sounds and vibrations of unique instruments. The frequencies and sounds help participants transcend normally limited thinking and activate self-healing mechanisms in the body.
4. Ancient Healing Cacao Ceremony in the Labyrinth
The goal of the Ancient Healing Cacao Ceremony in the Labyrinth is to break the illusion, limited beliefs, traumas or anything that is blocking the path of one's soul. Native shamanic tools are used in the ceremony, like drumming, feather cleansing, smudging, medicinal cacao and shamanic sound journeys with didgeridoo, ancestral songs and flutes.
5. Temazcal or Mayan Sweat Lodge
At the Temazcal or Mayan Sweat Lodge, 28 stones are used, which represent the bones of the earth, in a dome-shaped structure symbolizing the womb of Mother Earth. The firekeeper places the stones in a hole in the center of the lodge, adding tobacco and aromatic herbs to the experience.
6. Wim Hof Breathing Session and Ice Bath Therapy
During the Wim Hof Breathing Session and Ice Bath Therapy experience, cold water exposure pushes people to step out of their comfort zone and connect in depth with their physiology, decreasing inflammation and releasing serotonin and dopamine. The session is conducted by certified Wim Hof therapist, Yati Or.
7. Secret & Sacred Medicinal Garden
This holistic experience uses nature's elements like roots, barks, leaves, flowers and seeds to create multi-purpose remedies to enhance the wellbeing of the body and all senses. Instructors Viktorija and Inese explore how to honor nature's healing abilities through sustainable and loving practices and how to cultivate ancestral wisdom to offer immunity to the community.
8. "WannaBee" Honey
The Peña family is a lifelong passionate beekeeper family that educates guests with their knowledge and love for bees. They help guests forget their fears and prejudices and introduce them to the wondrous world of bees.
9. Cooking Classes
This interactive experience showcases La Senda's chef preparing food in front of guests where they are encouraged to actively prepare their own drink and appetizer.