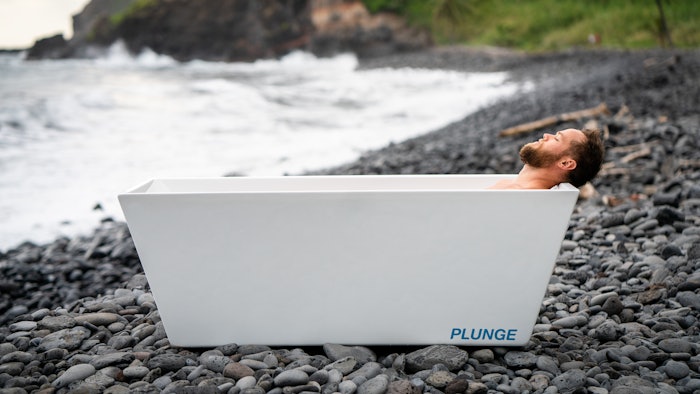 Photo courtesy of Plunge
Deer Valley's luxury resort and residences, Goldener Hirsch, Auberge Resorts Collection, and the cold plunge company, Plunge, have partnered to provide recovery and relaxation through an après ski wellness program. 
Goldener Hirsch guests will now have complimentary access to the Plunge on the rooftop, which also features a heated pool, hot tub, sauna and undisturbed mountain views. The rooftop recovery hub allows guests to alter their body temperature switching from hold-cold and vice versa, often called the Nordic Cycle.
The partnership will also include après ski experiences that combine cold plunging with other mindful practices to maximize its healing effects. These experiences will be led by highly qualified wellness practitioners.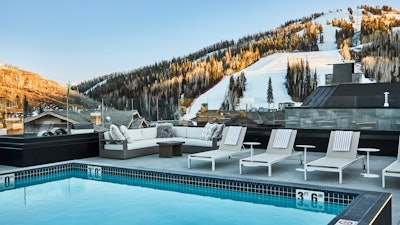 Related: 4 Cold Plunge Experiences from Top Destinations
3 Cold Plunge Experiences
1. Inhalation, Exhalation
Beginning with 15 minutes of pranayama breathwork, guests will learn the mechanics of how to breathe properly while plunging. After a session in the icy bath, they will emerge to a Cacao ceremony with local Utah cacao: Maya Cacao. Integrate the experience with ceremonial cacao known to increase blood flow to the brain and heart, boost the immune system and keep guests in that 'plunge natural high' by elevating levels of dopamine.
2. Cardio to Plunge
This performance-based experience starts with a four to six minute warmup to increase blood flow to muscles, before a HIIT circuit for a rejuvenating boost of energy. A 10 minute cool-down also serves as a lesson in the benefits of cold exposure before jumping into the tub. Guests will learn to allow breath to sedate the nervous system, thereby allowing healing to overwhelm the body and mind.
3. Hot to Cold
To transform the physical and mental body, this experience taps into the Nordic Cycle ritual. Guests can begin in the rooftop sauna with guided breathwork and visualization, before immersing their breathing techniques in the cold water. Guests will leave the experience with a renewed sense of energy.