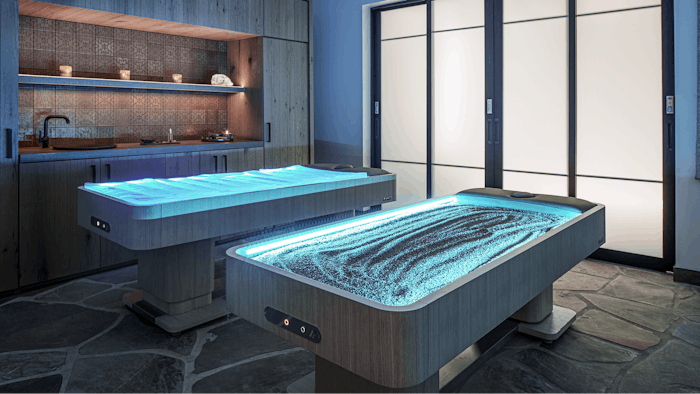 Courtesy of the Arizona Biltmore, A Waldorf Astoria Resort
The recently opened Tierra Luna Spa at the Arizona Biltmore, a Waldorf Astoria Resort, has created a number of wellness programming to help clients relax and holistically rejuvenate. Guests may experience treatments à la carte or book a special Journey or Ritual package with multiple thematic treatments for a fully immersive experience. Here are five of the spa's standout therapies.
1. Chakra and Sound Massage
This full body, aromatic massage features seven essential oil blends that have been attuned to each of the seven chakras' vibrational energies; they also incorporate the sound of ohm, which vibrates at the same frequency found throughout nature to release tension, alleviate muscular aches and increase energy levels.
2. Luminous Quartz Cryo and Thermal Facial
Linked to the heart chakra and commonly referred to as the love stone, rose quartz energy promotes compassion, love and peace. In this service, it's coupled with lymphatic drainage massage, a cyclical balance of warm and cool cryotherapy tools, and signature desert extracts to tone and detoxify the complexion.
3. Circadian Bath Ritual
A magnesium soak before bed puts the whole body into a state of relaxation, helping cells manage the cycle of day and night while relieving aching muscles.
4. Astrology Reading
The practitioner will give clients a detailed explanation of their natal birth chart, delving into personality, strengths and challenges, family, career, health and relationships. Then, they will look at how the planets are influencing the chart now and in the future.
5. Alchemy Mud and Crystal Wrap
Indigenous mud is used to detoxify and soften skin, improve circulation and generally ease aches and pains. The mud treatment is paired with essential oils and a crystal specifically chosen to enhance the client's unique energy. This offering also includes an optional reading with an expert astrologer who blends birth charts and cosmic forces into personal revelations for the client.
"From the Luminous Quartz Cryo and Thermal Facial to the Circadian Bath Ritual, each personalized Tierra Luna Spa treatment allows you to immerse yourself in a tranquil and transcendent desert experience. Our ingredients are sourced from the surrounding desert and each treatment is customized to meet the needs of each guest," said Becky Leuluai, spa director at Arizona Biltmore. "We have curated a menu with the intent to leave your spirit feeling completely uplifted."