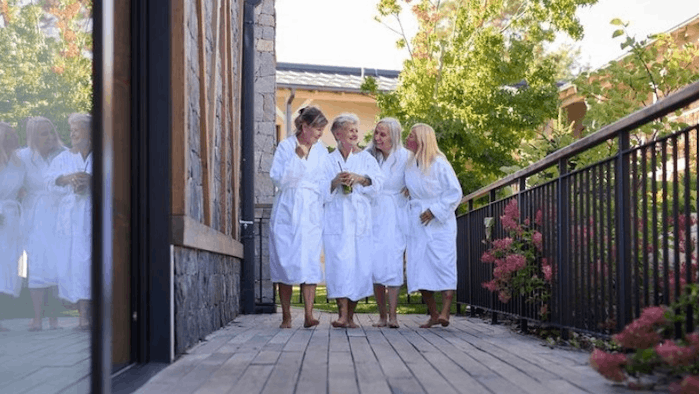 Courtesy of @woodhouse_spa_
Four brand-new wellness destinations are offering a range of holistic treatments, including sound therapy, energy healing, salt therapy and more. 
Recently opened in South East Asia, the Regent Phu Quoc features inviting outdoor spaces, sensory bath menus in every suite and villa, private cabanas with a tailored dining experience, and more.
The Spa at Regent Phu Quoc focuses on innovative techniques combined with natural remedies. Guests can journey through acoustic, vibrational and hot sand therapies, or embark on a personalized wellness experience guided by the resident Holistic Wellness Coach. 
In addition, The Regent Club is a tailored retreat with bespoke experiences and privileges, as well as access to an intimate venue with a private rooftop infinity pool. 
Guests can also enjoy the Rooftop Sky Yoga Pavilion, the health club, the facial suite and the outdoor pool oasis.
Marram has reopened its doors for 2022. The destination has revealed upgrades including two new suites, wellness workshops and a new cocktail program. 
The new luxury suites feature plush linens, amenities, steam showers, a lounge and kitchen space, as well as outdoor spaces overlooking the ocean. Additional Marram experiences include: 
Surf Lessons
Private Energy Healing
Salt Cave Therapy 
Personalized Tarot Readings
Singing Bowl Sound Bath 
Marram has also revived its Fireside Chats series, discussing health, wellness and lifestyle in the resort's lounge. 
Woodhouse Spa has opened its latest location in Franklin, Tennessee. It offers 6,000 square feet of space, including a VIP suite/locker room, an infrared sauna, a meditation room with virtual reality and sound therapy, a halotherapy room and a menu of more than 40 treatments.
Spa treatments correspond with one of six key moods: calm, balanced, resilient, energized, empowered and balanced. Signature treatments include Syndeo HydraFacial, Deep Tissue Transformation, Holistic Minktyi, Meditative Mood Soak, Pure Lift Facial Elevation and more.
Wellness+Connections (W+C) has launched its retail Organic Spa & Wellness Center in Lewes, Delaware. The W+C concept is based on healthy nutrition, so the Organic Spa & Wellness Center is a club where guests can enjoy organic, plant-based, gluten-free juices and SuperFoods following their fitness sessions.
The guest experience begins at the Connections+Counter, where each guest will have their own wellness concierge to guide them through all the options. The concierge will help guests in their healing process in all aspects, whether suggesting a three-day juice cleanse, a private acupuncture treatment or an assisted stretching session.
The boutique at the center provides supplements, herbal remedies and Intravenous Vitamin Infusion Center; a Pilates and barre studio will be opening soon.