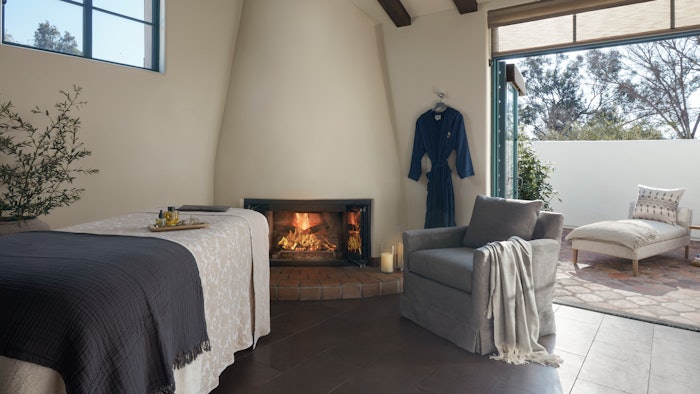 Photo Courtesy of Ojai Valley Inn
Wellness retreats go beyond the traditional spa treatment, delving into internal reflection and a focus on developing mental, physical and emotional well-being. These three wellness retreats offered this fall add a unique spin to the concept, including yoga focused on balancing stress and release, solo spiritual experiences and personal recovery and transformation.
Related: Synergy - The Retreat Show Gathers Top Wellness and Travel Pros
1. Yin-Yang Yoga Experience
Sophie Jaffe, founder of the wellness brand, Philosophie, is pairing up with Caley Alyssa, CEO and founder of the Academy of Yogic Sleep & The Caley Alyssa App, to offer a yin-yang yoga program to reduce stress and anxiety, offering a transformative yoga journey that is energy-shifting and healing.
Celebrity yogis Jaffe and Joyner are introducing a brand-new yoga experience related to yin-yang yoga, a Taoist concept describing the two relative qualities in everything. They will debut this first-of-its-kind yoga experience at Palmaia, The House of AïA, Riviera Maya, Mexico. Retreaters can expect to return home with the tools to reprogram their mind, identify and eliminate limiting beliefs that keep them from achieving their goals and attune to the energy of the cosmos and learn how to utilize this wisdom to set themselves up for the life of their dreams.
According to the brand's description of the retreat, "Sophie will take retreaters into their physical bodies using power yoga to release pent-up frenetic energies and meet their true essence. In contrast, Caley uses a complementary practice of non-sleep deep rest, also known as Yoga Nidra, to guide retreaters through their mental bodies, experiencing a complete nervous system reset and awakening to alternate states of consciousness. Both practices focus on integrating the full breadth of yogic techniques in order to allow their participants to surrender to the cognitive mind. Freedom and soulful insights are the inevitable results that will come with this awakening, all while under the influence of the Piscian moon energy."
Jaffe said, "This combination of yoga is truly unique and dualistic releasing unwanted energies while bringing peace and deep dream sleep states to those who experience this yin-yang yoga combination. It's a yoga practice of release and surrender, a desirable outcome in these chaotic times."
2. Spa & Spirit for One at Ojai Valley Inn
Ojai's solo "Spa for One" wellness journey includes luxury accommodations, daily lunch at the Spa Cafe and one daily 60-minute spa treatment with experiences led by the resort's spiritual wellness practitioners. Spiritual Artist Nancy Furst offers customizable sessions for guests, utilizing Native American drumming and prayer songs for a brief meditation; crystals, gems and wisdom cards to open her intuitive channel and guide the session; and guiding guests to change their consciousness, heal the past and engage their inner knowing.
Alternatively, elect to take a Crystal and Reiki Energy Healing and Chakra Clearing with Reiki Master Katie Manzella for a clearing practice that allows guests to dissolve old patterns, energies, and emotions while restoring balance.
3. Dream and Discover the Dry Life with Megan Wilcox
Clients who are sober curious or already on the teetotaler path can join certified professional recovery coach Megan Wilcox is leading the Dream and Discover retreat at Meliá Punta Cana Beach that offers the perfect atmosphere to help reconnect with themselves and achieve the personal transformation they are looking for.
Dream and Discover the Dry Life with Megan Wilcox will demonstrate how to take a break from alcohol and how to live a fun alcohol-free life. Participants will have the chance to make deep bonds with other women on the same path. Through workshops during the 5 days/4 nights retreat, clients will learn how to regain self-confidence, set new goals, release the past and discover ways to socialize without alcohol. The retreat also includes one-on-one sessions with Wilcox and yoga and meditation sessions.