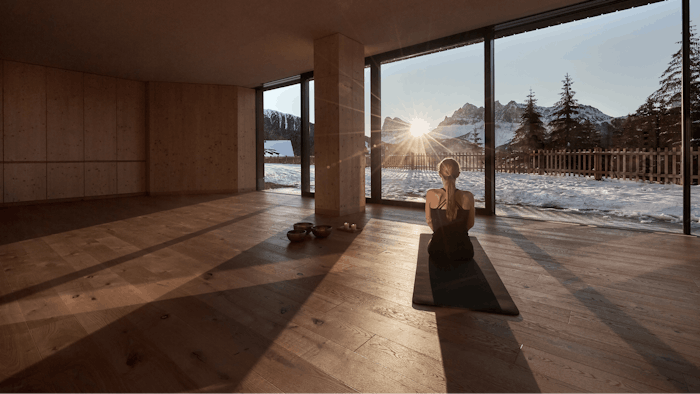 International Day of Yoga is June 21, 2022, and we have all the hotels and yoga settings that are hosting celebrations around the world. 
1. Hotel Lou Pinet
- Saint Tropez
Hôtel Lou Pinet offers guests a morning yoga class in its enchanting garden with the sound of cicadas, a natural Zen sound to help block out the noises that might disturb focus. For additional wellness experiences, just a short walk from the garden is an intimate spa and fitness center.
2. Tschuggen Grand Hotel - Switzerland
The Tschuggen Grand Hotel is known for its uniquely designed Tschuggen Bergoase Spa, which offers yoga classes overlooking the Alps. Guests are invited to become one with nature and take in their peaceful surroundings. Following the yoga class, they can indulge in a spa treatment or take a swim in one of the indoor or outdoor pools on the property. 
3. Pangkor Laut Resort - Malaysia
Pangkor Laut Resort invites guests to explore the resort's yoga or tai chi quan morning sessions amidst the ocean breeze and soothing sounds of the waves. Featuring therapeutic breathing, postural and moving exercises, tai chi quan develops inner stamina and circulates energy while yoga unites the body and mind. 
4. FORESTIS - Italian Dolomites
Mountain retreat FORESTIS invites yogis to experience the true yoga experience this International Yoga day in the style of the Celtic Druids. Wyda, the yoga of the Celts, brings additional energy, flexibility and inner centering through movement exercises and meditation. 
5. The Principal Madrid - Madrid
Guests at The Principal Madrid can enjoy rooftop yoga classes with views of the city, including the Gran Vía and Círculo de Bellas Artes. Each class is personalized according to the traveler's needs, thoughtfully designed for all bodies and levels of experience. Karen Rocket, one of Madrid's most beloved yogis, emphasizes not only physical but mental health and well-being as an important part of the rooftop yoga experience.