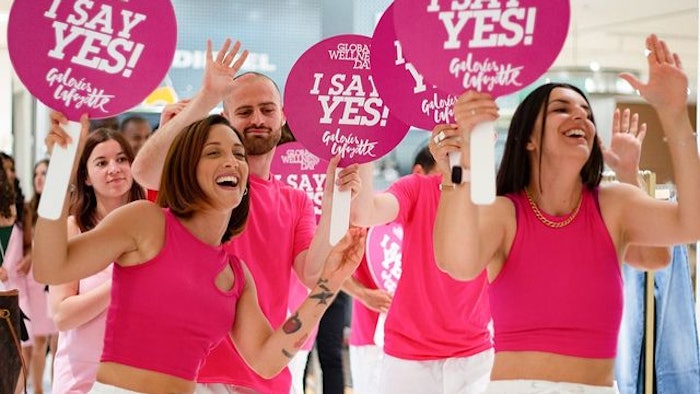 Photo Courtesy of Belgin Aksoy
The twelfth annual Global Wellness Day (GWD), which took place on June 10, 2023, celebrated wellness in all forms. This year, the focus was on the value of physical, mental and emotional health with the slogan "One day can change your whole life" and a theme of #DanceMagenta. Celebrated all around the world, the event featured activities that involve dance and movement including fitness classes, yoga, wellness-focused workshops and much more.
Global Wellness Day has evolved since its inception in 2012 from a localized celebration in a single country to a global event embraced by more than 170 countries. This international movement has garnered support from a multitude of diverse entities, including presidents, ministries, hospitals, schools, spa and wellness companies, associations and renowned celebrities. Ghana, Belgium, Bhutan, Seychelles, Cameroon, Mauritius, Uzbekistan, Pakistan and Tunisia were among the countries celebrating the day for the first time. Argentina honored GWD by lighting the Monumento del Sembrador in Villa Elisa.
Artist Brianna Mazzola teamed up with songwriter Taura Stinson and producer Darien Dorsey on the official anthem for GWD. Mazzola and movement therapist Patricia Ladis created two dances to go along with the song, encouraging people to join in and recreate the dances throughout the month. Artist Davide Locatelli also released a new song called "Love" in honor of GWD. 
Some of the highlights of the celebration include a dynamic fitness class with international fitness YouTuber Patry Jordan and a new training method called Ballet Fit created by award-winning dancer Gloria Morales in Ibiza.
Related: 8 Experiences from Around the Globe that Celebrate National Yoga Day
Wellness check-ups, yoga, Zumba, fitness challenges, community dance sessions and #DanceMagenta-themed workshops took place in Tanzania, Belgium, Morroco, Turkey, Argentina and New Zealand. There was also a #DanceMagenta foam part in Vietnam. 
Malaysia showcased Reiki and sound healing during GWS, while Turkey had bachata and slow waltz classes, kundalini dance, workshops and skin analysis. There were tango classes, a #DanceMagenta flash mob, TRX workout, Rebound Dance and sound bath in Italy. 
Maldives celebrated with community dance with island locals, island run, nutritional seminars, meditation with sound instruments, healthy cooking class, sunset yoga and chakra dance. Serbia featured modern dance, ballet, kangaroo jumps, latin and traditional folk dance workshops, healthcare workshops, facial treatments and a seminar with a LP Master Life Coach.
New York, Florida, Ohio, Georgia, Oregon, Texas, Montana, California and Hawaii were among the states celebrating in the United States, offering yoga, healthy snacks, cycling, chakra balancing and fitness classes.
GWD was founded by Belgin Askoy, a veteran in the tourism and hotel industry with more than 25 years of experience. Askoy founded Richmond Nua Wellness Spa, Turkey's first destination spa, and she is a member of the board at Aksoy Group and creative director of Richmond Hotels. In 2016, Global Wellness Institute celebrated Askoy with the "Leading Woman in Wellness" award.
This year, Askoy collaborated with spa resort Chiva-Som Hua Hin on the annual medical aid mission to provide assistance and resources to help the Karen Communities in the Padeng district of Prachuap Khiri Khan Province.
"I am jubilant and in gratitude after each Global Wellness Day. My heart connects to millions of people around the world embracing their good wishes, dreams, wishes and promises to themselves in my soul. It's like living a dream I never want to wake up from. Thank you all with my whole heart. Happy Global Wellness Day," said Belgin Aksoy.