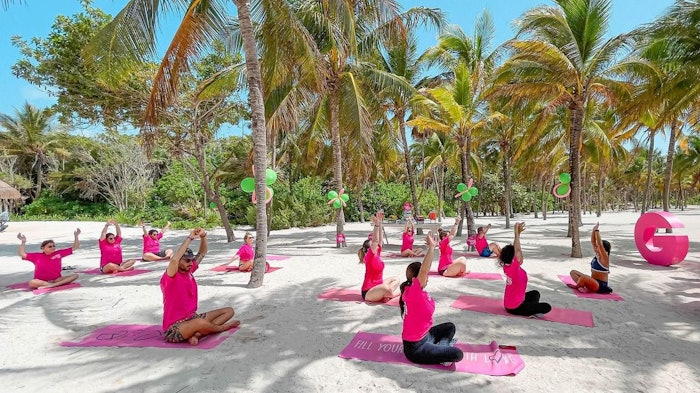 Saturday, June 11, 2022, officially marked the 11th annual Global Wellness Day (GWD). After the last two years of livestream celebrations, people all around the world celebrated with in-person activities, workshops and talks that incorporated the theme #ThinkMagenta.
The theme stems from an idea that rises amidst the negativity in the world, a reminder with a positive effect on life. "#ThinkMagenta isn't about being optimistic and ignoring life's problems," explains Global Wellness Day founder Belgin Aksoy. "It's about being realistic and choosing joy, no matter what happens in our lives."
GWD and #ThinkMagenta was celebrated in thousands of locations by more than half a billion people. In-person activities included laughter therapy to boost positivity, tai chi in Portugal, BoxHITT and Zumba in New Zealand, and Pilates and yoga in South Korea. There were "Talk It Out" therapy sessions, group fitness classes and workshops in Kenya; functional fitness in Bahrain; and a 5k run and salsa dance classes in the Dominican Republic.
Japan hosted cycling and cross training activities with Kyle Afra Studio and the Ryukyu University Wellness Research Department. There was celebrity yoga in Ibiza, an opening event for GWD at the Zlatibor Gold Gondola Lift in Serbia, and a books, art supplies and notebooks donation for an orphanage in Algeria. India gathered at the Governor's House for representatives of the wellness industry, while fitness and yoga sessions took place in the newest GWD celebrating country, the Czech Republic. Argentina lit the Monumento del Sembrador in Villa Elisa, and new countries that hosted celebrations included Tanzania, Algeria, Jordan, Guinea-Bissau and Zambia. 
Chiva-Som Hua Hin provided assistance and supportive resources to help the Karen Communities in the Padeng district of Prachuap Khiri Khan Province, for the seventh consecutive year. "This year I had the privilege of joining Chiva-Som, on their annual medical aid mission organized for GWD, this truly was an amazing moment, witnessing the true impact of Global Wellness Day in person. Despite the difficult conditions these villagers live in, they never lose their inner joy – an important outlook and lesson in life we all must take into consideration. I would like to thank Chiva Som for showing the world how Global Wellness Day should be celebrated," said Aksoy.
This year, GWD also collaborated with WE(i) Think to showcase healthy recipes from around the world, all collected within a free downloadable e-book. The Wellness Food Travel Association (WFTA) organized another free e-book the features healthy beverages. 
GWD has grown from being celebrated in one country in 2012, to being celebrated in more than 170 countries in 2022—with plans to keep growing for years to come.