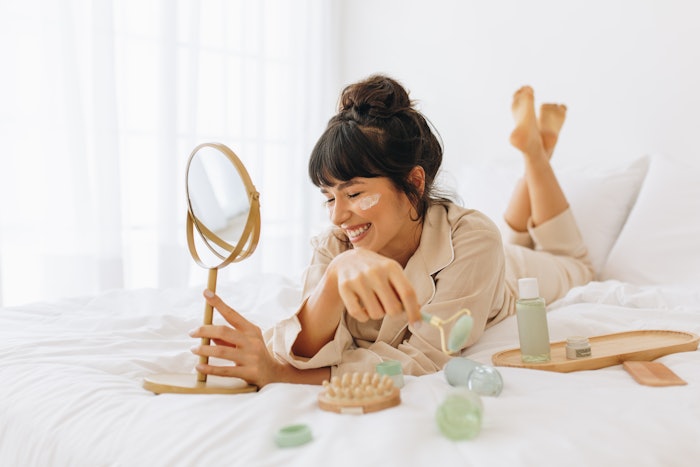 Attendees gathered for the final advanced education course of the Face & Body Northern California show on Aug. 21, 2023 to learn about the connection between skin care and mindfulness, led by E'Toshia McFarland, esthetician and esthetics educator at Faces By Tosh. 
McFarland also created The Estie Resource Lab, a community for estheticians to get the support they need to transition from esthetics students to esthetic professionals, while building their brand awareness in and out of their treatment room. 
The class discussed the effects that stress and everyday aggressors can have on the skin, and how spa professionals can help clients implement self-care practices to help aid in skin health. 
Understanding the Mind-Body Connection
McFarland broke down how emotions, stress and mental-well-being can impact skin health. Enter mindfulness, which can be a solution for your clients experiencing any of these outside factors. Stress triggers the release of cortisol, which can lead to increased oil production and inflammation in the skin. Chronic stress can weaken barrier function, which is why the mindfulness connection is so important. 
Mindfulness practices reduce stress and promote relaxation for clients by keeping them present to cultivate a positive mindset to positively impact their skin health. She recommended including breathing rituals in the beginning of esthetic appointments to get your clients in the mindset of self-care and deep relaxation. 
Mindful Skin Care Techniques
It is important to provide your clients with mindful skin care techniques that make creating and keeping a routine easier. Examples for these techniques include a step-by-step cleansing guide or encouraging clients to create personalized, mindful skin care rituals. This can help you create tailored treatment plans, and provides retail opportunities.
As for mindful product selection, McFarland shared that choosing skin care products mindfully can positively impact the mind and body. She urged attendees to remind clients to consider ingredients, fragrance and their effects on overall well-being.
Related: Top 7 Mindfulness Techniques
Nurturing the Skin From Within
Another facet to mindfulness is mindful nutrition for increased skin health. Inform clients that proper nutrition is essential for supporting skin health and radiance. Mindful eating also promotes awareness of food choices and their impact on the skin. Recommend mindful eating exercises like food journaling to promote mindful eating.
McFarland shared skin-friendly foods with the class including nutrient-rich foods like fruits, vegetables, nuts and seeds. She also recommended Omega-3 fatty acid-rich foods found in fatty fish, chia seeds and flax seeds. These options provide essential vitamins and antioxidants, along with helping to maintain skin's moisture and elasticity. 
Mindfulness Meditation for Skin Health
Mindfulness meditation is the practice of being fully present, non-judgmentally, and aware of the present moment. This practice can reduce stress due to decreased cortisol levels, and stress-related skin issues. Mindful meditation also enhances skin radiance by promoting blood circulation, and creates a youthful appearance by supporting cell renewal. 
The class shared the power of positive affirmations to complement mindfulness meditation for improved skin health and self-esteem. Affirmations can help rewire thought patterns and enhance self-confidence. 
Building Client Engagement
It is vital to effectively communicate with clients to foster a strong client-esthetician relationship. McFarland shared that active listening and empathy create a safe and supportive environment for clients. Establish a connection as early as possible to create genuine experiences and build a positive rapport. 
Ensure that clients understand the benefits of mindful skin care practices and always ask open ended questions to understand your client's skin concerns and help them achieve their goals. Lastly, it's important to always seek client feedback and act on their suggestions. By sending follow-up materials or personalized skin care with clients, you will create a loyal customer.