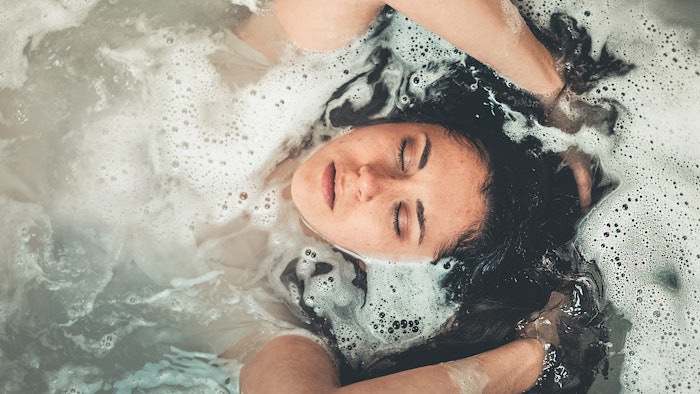 There is nothing quite like going to the spa and being swooned over, cared for by professional therapists and receiving the highest quality treatments utilizing expert equipment, products and facilities. However, once their spa day is over, clients often end up wondering how they can recreate the experience between visits. Even when guests can't book appointments as often as they'd like, there are plenty of things they can do at home that are indulgent, effective and, if they get the idea from you, great for keeping your spa top of mind.
Showing your clients that you truly care about their wellness by prescribing at-home rituals will cement their loyalty to the spa and its therapists, increasing the likelihood that they'll return sooner rather than later. Beyond retail products, you can provide guests with advice and techniques to continue working on their well-being until their next spa visit. The following rituals for muscle recovery, detox and skin care can be easily done at home to prolong the wellness experience.
1. Ritual: Muscle Recovery
As a massage therapist myself, some of the most common complaints I hear from clients are: "My muscles are sore and achy, my feet hurt, my neck is tight." What they need is some serious muscle recovery. Although nothing will replace the feeling and efficacy of massage therapy, there are some great ways that clients can recover at home and experience an accompanying relaxing mental moment. I recommend the following home care.
An at-home mental and muscle recovery ritual should start with a mindful bath or shower. The bathtub is an ideal place to relax and meditate. The hot water slows the parasympathetic nervous system, allowing the client to breathe more deeply. For a muscle recovery bath, remember to add some soaking salts. There are various kinds, each with different minerals, but all will help to relax and soothe sore muscles while the body soaks in the much-needed nutrients. My preferred bath salts are Dead Sea salt, French gray bath salts and Epsom salts. Dead Sea salt has a high percentage of magnesium, sulfates and potassium, while French gray bath salt has health-enhancing nutrients like calcium, potassium, copper, zinc and iron. If they have some Epsom salt, that has magnesium, sulfur and oxygen. Top it all off with some aromatherapy featuring scents like sweet basil, bergamot and peppermint—perfect for a muscle soak.
I always encourage using this soaking time to meditate or relax to some soothing music. The bath will leave muscles warm, and they'll continue to absorb the nutrients afterward.
People can finish off the treatment with a self-massage using a percussion device like the Hyperice Hypervolt, which concentrates targeted pulses of pressure reaching both the superficial and deep muscle fibers. This helps relieve pain, stiffness and soreness all while increasing range of motion. Alternately, they can try a self-massage with a hydrating oil, body butter or, even better, a muscle rub like Yoga Balm, which is packed full of essential oils like peppermint and frankincense. It smells amazing and their muscles will be eternally grateful.
Continue reading the Digital Magazine for two more rituals that improve client loyalty...
Magdaleena Nikolov is the director of spa at Los Angeles' highly anticipated Fairmont Century Plaza, a luxury spa focused on holistic wellness and innovative experiences opening in 2021. She has more than 12 years of experience in the industry, having worked at several iconic luxury resorts and spas including Cornelia Spa at the Surrey and La Mer Spa at Baccarat.