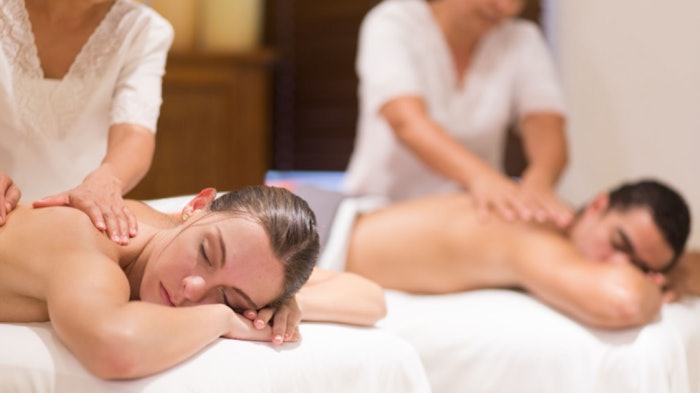 Calling all couples! The interest in treatments that cater to couples is continuing to rise, and spa professionals should jump on the train by adding services designed for pairs. Here are six wellness experiences from top facilities to use as inspiration for your offerings. 
1. Colombian Royal Treatment
Sofitel Legend Santa Clara Cartagena and Sofitel Baru Calablanca Beach Resort offer The Colombian Royal Treatment that is designed to holistically restore the body and mind. This offer is designed for two people, and combines stays at both renowned hotels with ultra-luxe spa treatments that draw upon the rituals of ancient royalty and the use of precious stones to promote well-being. 
2. Emerald Spa Ritual 
Sofitel Legend Santa Clara's Emerald Spa Ritual for two is inspired by the magic of the Colombian stone. This treatment taps into the spiritual energy and power of the precious stone. Embrace a full immersion of mind, body and soul in a healing wellness experience. The treatment includes a body scrub, aromatic pindas bath, relaxing massage and a facial. Emeralds are known for being a stone that imparts wisdom, calms emotions, eliminates negativity and transmits mental clarity. This ritual will provide a cleansing of energy centers. 
3.  Vida de Reyes Ritual
Sofitel Barú Calablanca Beach Resort offers the Vida de Reyes Ritual, which is inspired by ancient royal treatments. The couples experience guides guests to the exciting world of kings and queens, influenced by the care the royalty received for their skin and body. The treatment included a 30 minutes express facial, 30 minute body exfoliation to renew the skin and a 40 minute Calablanca Massage. The ritual concludes with the bubbles of an aromatic and sensorial hydromassage time in a private tub prepared with beneficial salts to sooth and balance guests. 
Related: Trending in Couples Treatments
4. Afterdark Experience
With a rise in travelers seeking new intimate experiences, Casa Velas, the exclusive adults-only boutique hotel in Mexico's Puerto Vallarta, is now offering an Afterdark Experience at its Abja Spa. Couples will be welcomed with a special ritual consisting of volcanic stone bracelets where they can add their intentions and wishes along with a personalized essence. From there, the couple will begin a hydrotherapy circuit where they will indulge in water-based therapies including a sauna, pressure shower and eucalyptus-infused steam room. The experience will finish with a romantic couples massage concluded with sparkling wine and chocolate covered strawberries. 
5.  Guided Wellness Experience for Two
Sensei Lanai, a Four Seasons Resort is offering a Guided Wellness Experience for Two that includes two private sessions in fitness, nutrition, yoga, mindset and meditation. Each guest will experience two 90 minute spa treatments, as well as a consultation with a Sensei Guide pre-arrival to curate an itinerary. The "My Intention" session will review couples' well-being goals and collect baseline heath markers. Pairs will also have priority access to complimentary classes including daily small-group yoga, fitness and mediation classes, as well as guided hikes and weekly lectures. 
6. Waves of Romance Package
Spa Alila is now offering the Waves of Romance package. Couples will experience two nights in a Fire Pit Room, where they can cozy up in a corner of the coast to call their own. Throughout their stay, couples can participate in daily morning yoga on Ocean Bluff, a private beach picnic for two, a sparkling wine tasting experience at VAGA, a private in-room couples' sound bath and two, one hour Talisman Massages. 
Couples can also nourish the mind and spirit and continue to connect on a deeper level with Spa Alila's holistic sessions by resident master yoga teacher and healer, Dana Damara. Treatments during the holistic sessions include Exhale (breathwork), Cosmic (astrology readings), Vibe (private sound healing) and Unify (elemental healing).