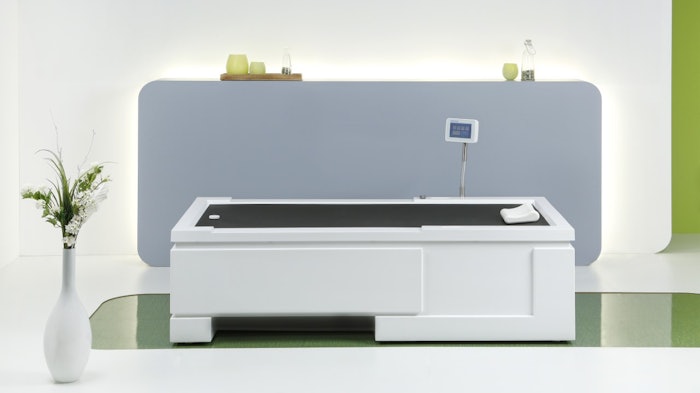 Courtesy of Unbescheiden
The pandemic has caused plenty of changes in spa and wellness, and as businesses adjust to the new normal, they're noticing an increased demand for low- or no-contact treatments. Enter the touchless, automated dry hydromassage. 
A white paper written by Dr. Kerstin Bremser, professor at Pforzheim University of Applied Sciences in Germany, has been released by from the Global Wellness Institute (GWI) as part of its Hydrothermal Initiative. The paper, "Hydromassage in Today's 'No Touch' Normal," examines the benefits of the hydromassage, a treatment that can address issues like sciatica, chronic low-back pain and pinched nerves, among others, and can serve as an effective alternative for spa-goers seeking contactless body treatments. These devices require very minimal hands-on contact, and are already popular in Europe for treating muscle pain. 
"Dry hydromassage systems not only deliver high-quality hygienic treatments that are touchless and require minimal staff time, but they can also be customized for personalized wellness experiences," writes Dr. Bremser. "For example, guests choose which body zones need more attention and can alter pressure, speed and duration of a treatment. The customization also makes it possible for spas to create and save numerous treatments/massage journeys."
Clients are simply positioned on a comfortable cover made from natural rubber, which is fitted over a tub filled with heated water. The nozzles placed below the cover and along the client's body then administer a relaxing massage using that heated water. Sessions can often be personalized via a touch screen, and the device is very easily cleaned. 
Interestingly, the paper's interviews with spa and wellness experts revealed that most spa-goers would prefer going back to the treatments they know and love, but changes in protocols will be necessary due to new norms and regulations to stop the spread of COVID-19.
Another key issue? Staff availability. According to the white paper, industry experts anticipate this problem becoming even more severe post-pandemic, given the added pressure that the new norms will put on therapists who will be safeguarding their own well-being as well as that of guests. And, because therapists are responsible for the hygiene of the treatment rooms they work in, another byproduct is that they will spend much more time sanitizing and disinfecting spa spaces.
"To minimize the financial impact, operators will need to get creative in how they offer safe, hygienic and unique spa experiences. Automated dry hydromassage offers a relevant and effective alternative, " adds Don Genders, chair of the GWI Hydrothermal Initiative and CEO of Design for Leisure.