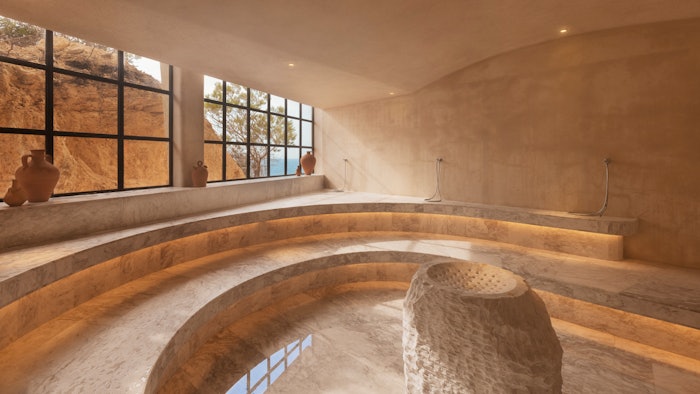 Six Senses
Getting a good night's sleep has been at the top of the wellness trends list for a few years now, because it can affect many different aspects of a person's health and well-being. To address spa-goers' need for good sleep, some top travel destinations have put together wellness programs. 
1. Six Senses Ibiza
Six Senses Ibiza offers dedicated retreats and programs that work to heal the many parts of the mind and body that are needed for a good night's sleep. The 'Sleep' Wellness Program is curated to improve sleep patterns and pave the way to a healthier and happier life. It does this with the combination of advice from the resort's Sleep Doctor, yoga nidra and meditation, relaxing treatments and amenities, wellness therapies, nutrition advice and low intensity training. The retreat is available in three-, five- or seven-night durations. 
Solving the Mystery of Your Sleep is an immersive retreat led by Dr. Michael Breus, nationally renowned sleep expert, and it dives into guests' personal patterns to create a custom plan to help them find the sleep that their body needs. This program helps guests reconnect with their mind, body and soul by tracking sleep and learning how to care for their unique chronotype, as well as recommending the best diets and daily activities to optimize their body's ability to fall asleep. 
Related: 5 Steps for Sleeping Well
2. Rosewood Hotels & Resorts
Alchemy of Sleep at Rosewood Hotels & Resorts is a global collection of immersive retreats designed to promote rest through sleep-inducing treatments, movement-driven activities, nutrient-rich menus and special amenities. This program supports the body's renewal and longevity, and it is bookable at 20 of the Rosewood luxury properties. Each retreat keeps with Rosewood's Sense of Place philosophy, wherein the offerings are inspired by the unique ethos, energies and environment of the destination.
Specific locations are able to offer exclusive experiences including: Rosewood Little Dix Bay's Acu Doze acupuncture sessions, Rosewood Villa Magna Madrid's The Grounding Ritual, Rosewood London's Intensive Votary Antidote Sleep Treatment, Rosewood Le Guanahani St. Barth's Healing Sound Therapy Sessions, Hotel de Crillon's Sleep Naturopathy consultations and Rosewood Baha Mar's Bush Tea Sleep Sessions. 
Related: 7 Sleep Retreats from Rosewood Resorts
3. Miraval Resorts & Spas
Miraval provides unique sleep offerings at its different locations. At Miraval Arizona, sleep and dream specialist Leah Ann Bolen leads workshops and private sessions with guests to improve their relationship with sleep. Guests can join Bolen in Awakening the Dream, a transformative workshop; Rituals for Better Rest, drawing inspiration from ancient Egypt and Greece's sleep and dream temples, or a private session; Dream Discovery, where they'll learn techniques to explore the meanings behind their dreams.
At Miraval Berkshires, guests can participate in The Way to Superior Sleep, a 75-minute workshop and sleep clinic where they'll learn how to fall asleep and stay asleep according to the latest research. Guests can learn the latest sleep hygiene techniques, including the use of lighting and temperature to get the best night's sleep.