bees
use their hind legs to carry pollen to the hive. In fact, it's this pollen, churned with nectar, that gives different honeys their distinct tastes. "Flavors range from floral to citrusy to earthy. Orange blossom and wildflower honey are two of the most common types—both tend to be light and floral," notes Pamela Salzman, a certified holistic health counselor and author of
Kitchen Matters
(Hachette Book Group, 2017).
RELATED: Taste: Cucumber Mint Mojito Popsicles
This cookbook contains dishes including breakfasts, soups, snacks and drinks. The latter offers a recipe for refreshing Honey-Ginger Lemonade that elevates the classic beverage with added ginger, and freshly squeezed orange juice and unpasteurized honey in place of refined sugar. "In its purest form, raw honey hasn't gone through any heating or processing, leaving the beneficial enzymes, antioxidants and phytonutrients intact," says Salzman. Achieving the look of the lemonade pictured here means using a light-colored honey, typically sweeter in taste too. If you're partial to richer, more robust flavors, experiment with darker varieties.
RELATED: Strawberry Lemonade Smoothie Bowl
High-quality honey can be bought at farmers markets or from local beekeepers. Some resorts and spas have also implemented beehives of their own: Six Omni and more than 20 Fairmont properties incorporate their syrupy stash into everything from cocktails to spa treatments. Talk about a sweet deal!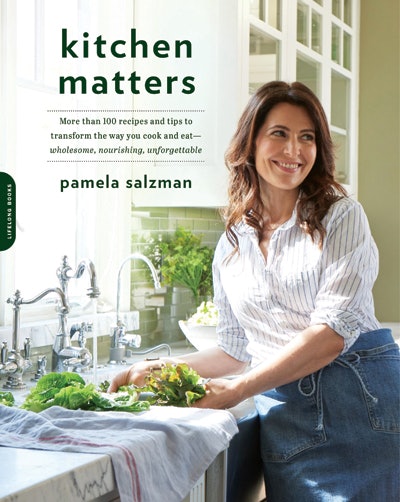 Honey-Ginger Lemonade
Yields 8 cups
6 cups water (room temperature)
1/2 cup honey, preferably raw, plus more to taste
1/3 cup fresh ginger (peeled and sliced)
1 1/2 cups freshly squeezed lemon juice (9-11 lemons)
1/2 cup freshly squeezed orange juice
3-4 cups ice cubes
Combine honey, ginger and 2 cups of water in a blender. Blend on high speed until emulsified. Strain the liquid through a fine-mesh sieve into a large bowl or pitcher. Add remaining water, lemon juice, orange juice and ice, and serve.
–by Marina Kay
According to the Oxford English Dictionary, "the bee's knees" idiom is thought to have been inspired by the way hard-working