A Rainbow of Smoothie Bowls: 100 Wholesome and Vibrant Blended Creations
, whose concoctions combine colorful fruits and vegetables, nuts, seeds, spices and superfoods. "Drinking your smoothies is an easy way to fix a healthy breakfast on the go, but there's something about eating a spoonful of smoothie with coconut flakes and low-sugar chocolate chips that makes it so much more enjoyable," the New York-based author tells us.
One particularly delicious and appealing combination is this Strawberry Lemonade Bowl. Loaded with citric acid, flavonoids, and antioxidants including vitamin C, the recipe packs fiber and flavor, thereby satisfying bellies and palates without added sugar.
RELATED: Pear and Sunflower Seed Soup
As a refreshing post-treatment snack, spa owners could try halving the recipe and serving it in small bowls. To save time, Weingus recommends freezing made-ahead batches. She also encourages readers to experiment with different combinations of bases and toppings. "A smoothie bowl is a form of creative—and delicious—expression," she points out. "So don't be afraid to explore a range of ingredients and flavors!"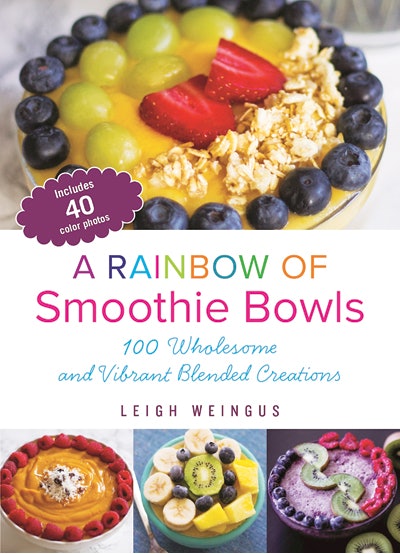 Strawberry Lemonade Bowl Recipe
Yields 1 serving
Base 1 banana
1 cup frozen strawberries
1 lemon, juiced
1 cup almond milk Toppings
1/8 cup blueberries
1/8 cup blackberries
1 strawberry, sliced
1/8 cup pineapple chunks
1 tsp. shredded, unsweetened coconut
For the base, place banana, strawberries, lemon juice and almond milk in a blender, and blend until smooth. Transfer to a bowl. Top with blueberries, blackberries, strawberry slices and pineapple chunks, and sprinkle with shredded coconut.
–by Marina Kay
These days, a smoothie is best devoured with a spoon. That's right—smoothie bowls are having a moment. Today's iterations are not only blended, but stirred, mixed and topped with fresh and dried ingredients that dial up taste and texture. So goes the thinking behind Leigh Weingus'