GLOW POPS: Super Easy Superfood Recipes to Help You Look and Feel Your Best
(Clarkson Potter, 2017), a collection of 35 recipes dedicated to the frozen snack—but with a grown-up, modern twist. Unlike the stuff of sticky Technicolor syrups, these pops combine herbs, fresh fruits and superfood ingredients like camucamu and maca into decadent flavor combinations that take mere minutes to prepare. "The pops are highly functional: Among other things, they balance hormones, relieve stress, and fight inflammation and allergies," says the author.
RELATED: Strawberry Lemonade Smoothie Bowl
To give your guests a spin on a summery cocktail, try this Cucumber Mint Mojito. According to Moody, this good-for-you rendition of the classic Cuban drink quenches thirst, can also help protect the skin from sun damage, and soothes the nervous system and digestive tract thanks to lime zest, cucumber and mint. You might also jazz things up by submerging whole fruit or cucumber slices in the pops: "Take your favorite frozen or fresh fruit—I love blueberries!—and place them in the mold before pouring in your batter," she suggests. "It'll be gorgeous and offer an extra surprise in several bites!"
Whether you use small paper cups or traditional molds is based on personal preference and storage space—pops can be kept in the freezer for six months. As for the best way to display these grab-and-go treats to clients? "It's fun to fill an ice bucket with ice cubes, and display the pops on top," adds Moody.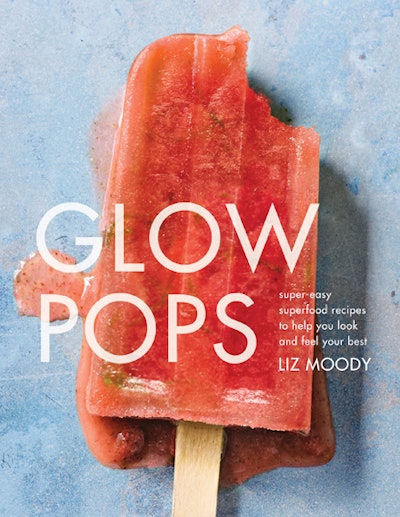 Cucumber Mint Mojito Recipe
Yields 5 or 6 pops
1 medium cucumber, peeled and coarsely chopped
1/4 cup lightly packed fresh mint leaves
1 cup water
2 Tbsp. honey
Zest and juice of 1 lime
Blend all ingredients together until very smooth. Pour the mixture into pop molds and freeze for one hour, then insert sticks and freeze at least four more hours or until solid.
–by Marina Kay
Remember when cooling off in summer meant running through sprinklers and snacking on popsicles? Writer and food editor Liz Moody channels that nostalgic vibe in