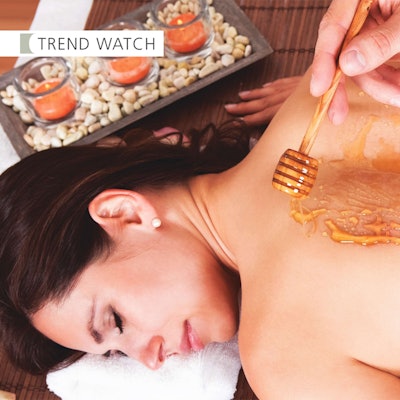 September is National Honey Month, but these spas incorporate the all-natural nectar year-round.
By Carol Sorgen
Spa Aiyana at Carmel Valley Ranch in Carmel, California, uses honey and honeycomb harvested on property for several garden- to-treatment table experiences, including Bee Beautiful (80 min./$215). "One of the most ancient healing remedies, honey is known for retaining moisture and skin elasticity," says spa manager Franziska Haala. "Because of its replenishing properties, it's a wonderful option for an all-over body mask." Spa-goers who book Bee Beautiful are treated to a warm lavender oil application, followed by a honey and calendula body buff and a facial massage using a honey aloe mask; the service ends with a honey shea butter massage. The signature protocol uses ingredients from the Lavender Garden, one of four on-site gardens that inspire the spa's entire treatment menu. "Guests truly appreciate that we pluck the ingredients for our products and services straight from the land," reports Haala.
Locals and tourists alike opt for the Milk Haute Honey Manicure (60 min./$60) and Pedicure (50 min./$80) at The Guerlain Spa in The Towers of the Waldorf Astoria New York in New York City. "Honey provides numerous skin benefits, plus the ingredients that we use come directly from our six rooftop beehives and the herb garden, making this experience both luxurious and earth-friendly," says spa director Angela Portella. For the roof-to-spa treatments, homegrown rosemary is infused into a lemon sugar scrub, and the exfoliation is followed by the application of Top of the Waldorf Rooftop Honey. Hot towels layered over the honey allow the amino acid-rich substance to penetrate the skin; after the humectant is removed, guests select a polish from a collection that includes Guerlain's own line. "Clients feel good knowing their treatment features local, natural ingredients that support North American honeybees, key members of our ecosystem," notes Portella.
In an effort to save the dwindling honeybee population, promote organic, nontoxic beekeeping practices and educate both employees and clients about how they can positively impact the environment, Austin, Texas-based milk + honey spa launched an organic, plant-based bath and bodycare line in early 2015. "With the honeybee population dying off in droves, the idea for BEES by milk + honey was born out of a desire to save these insects in a direct and impactful way," explains founder and owner Alissa Bayer. Today, milk + honey has five spa/ salon locations, and the program manages 15 hives split among three apiaries. Organic honey and beeswax are featured in the line's No. 35 and No. 40 Lip Polishes, which are applied as a post-facial finishing touch. "One of the best perks of BEES is being able to work closely with our employees, many of whom participate in the beekeeping apprenticeship program," notes Bayer.