The beekeeper-chef produces 'Wild Sayan Honey' through Indonesia's first bee conservation program.
Led by beekeeper-chef Liam Nealon, Four Seasons Resort Bali at Sayan has teamed up with local farmers to save Bali's bees and produce its own honey for use in the resort's restaurants, cocktails, cooking classes and spa treatments.
 In addition to fresh produce sourced from on-site vegetable and herb gardens, there are now two new bee hives each with a queen and some 10,000 busy bees making sustainable 'Four Seasons Wild Sayan Honey'. Of the species apis cerana indigenous to Indonesia, the bees live in a secluded location only accessible by staff, surrounded by virgin jungle on a bank of the Ayung River amidst coconut palms and wild flowers. Their 'villa' hives have thatch-roofs and roof-top entries, mimicking the award-winning below-ground design of the resort's pool villas.
RELATED: Win a Trip to the Eminence Certified Organic Farm
The hives are part of Indonesia's first bee conservation and community enterprise program, Plan Bee Indonesia, a grassroots initiative launched in Bali to combat colony collapse disorder, the well-documented global threat to bees. Plan Bee has set up bee centers in remote West and North Bali, bringing together farmers and forest honey gatherers to join the fight. Through the co-operative, Plan Bee connects the farmers with new customers for their sustainably-harvested honey, engages in knowledge and skills sharing to minimize use of pesticides in farming, and installs new hives to increase the bee population. It offers the opportunity for businesses and individuals to sponsor hives and support the farmers, and has been endorsed by the Indonesian Beekeepers' Association. Four Seasons Sayan is the exclusive hotel founding partner of the program.
"Our Sayan valley environment is a natural bee meadow with plenty of food for pollination and we are excited to be part of this grassroots program," said Resort Manager Sean Mosher. "It not only benefits the environment and small-scale farmers, but also our guests who will enjoy the fruits of the bees' labour through menus and various resort experiences. The honey is just the start, guests can also learn about the threat facing bees and how they can help by joining our escorted Garden Tour. There's a viewing point to see the hives from a distance, or guests can even safely visit the hives if they would like a closer look at the honey bees in action."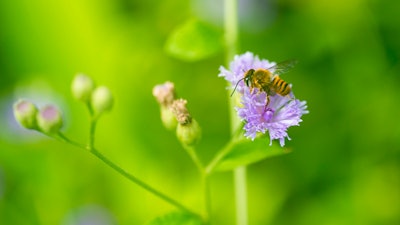 Plan Bee founder, 'queen bee' Amanda Garland Hunt, said: "The threat facing bees, food production and therefore life in general cannot be ignored. When we heard about the situation in Indonesia, we felt compelled to take action as friends of the bees. It's still early days, but we are so inspired by the support from Four Seasons and the Bali community, and the involvement of farmers who have really gotten behind the Plan Bee mission." 
RELATED: Why Rose Is a Skincare All-Star
The Sayan hives are tended by the resort's Executive Sous Chef Liam Nealon, a chef by trade with beekeeping experience and a passion for locally-sourced sustainable ingredients. Liam uses only natural methods to look after the bees, similarly to the resort's vegetable and herb gardens. The Wild Sayan Honey harvested from the two hives is supplemented with honey from the Plan Bee farmers' co-operative for use throughout the resort in food and cocktail recipes as a sweetener, at breakfast, cooking classes, and Sacred River Spa.
"The beauty of our Wild Sayan Honey is that you will never get two batches the same due to the variety of plants and flowers the bees pollinate," said Liam. "In general, the honey has a beautiful light scent resembling young coconut and palm as the two main sources of nectar, with a subtle floral fragrance of frangipani. As a chef, I love working with fresh, local ingredients and have created new dishes such as Tasmanian Salmon with Wild Sayan Honey, scented labna, shredded beets, goat's cheese and Egyptian spiced dukkah. It's also great simply poured over pancakes for breakfast, and poolside as a refresher in our signature Iced Gingerade at Riverside Café."
At Sacred River Spa, the Wild Sayan Honey will be used in a sublime 120-minute Swadhisthana chakra ceremony inspired by Balinese rituals for wedding, pregnancy and rites of passage. Promoting sensuality and self-worth, fertility and creativity, the Swadhisthana treatment aims to rebalance the sacral chakra in the lower abdomen with a deep lymphatic scrub, Vichy shower, nourishing bath, flowing massage with ylang ylang and jasmine oils, and cananga 'breath of peace' meditation.