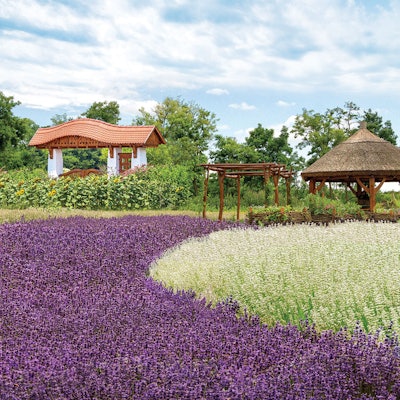 The calming scent of lavender fills the air as you enter 18-foot tall hand-carved wooden gates. You can wander the red brick paths, rest in the cool shade under a thatch-roof or pause for reflection by the lily pond. If you listen quietly, you'll hear frogs ribbiting by the water. Welcome to the Eminence Certified Organic Farm, home of hundreds of certified organic plants and beautiful Hungarian farm buildings. Located about 2-3 hours outside of Budapest, this farm is one you'll want to explore. Here's why:
1. You'll learn about organic ingredients and their benefits.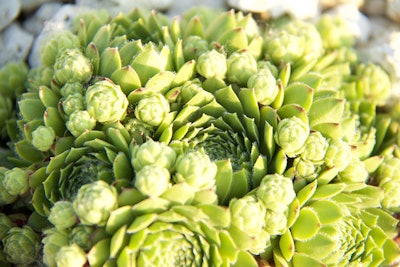 Did you know the stone crop is hydrating and nourishing for all skin types? Lavender soothes and softens the look of skin by replenishing moisture, while helping calm occasional skin irritations and gently regulating the skin's oil production. You'll get to see for yourself how organic ingredients like these are grown and get a look at the techniques used to make them thrive.
2. Find out about the importance of healthy nutrition and the positive, long-lasting impact on lifelong wellness.
Get expert insight about how the various organic ingredients grown at the farm can help you lead a healthy life. For instance, pumpkin pulp puree is rich in enzymes, beta-carotene, amino acids and antioxidants to fight the appearance of aging.
3. Discover how organic and biodynamic farming practices help heal the earth.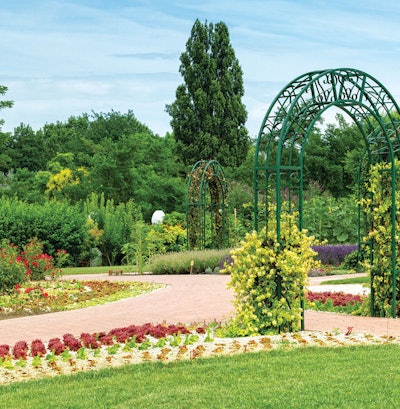 Season to season, the farmers never plant the same plant in the same place twice. This method ensures the soil is never depleted by the same crop. Each season, a different area of the farm is left fallow to allow the soil to rest and replenish important minerals. You'll hear about farming techniques including crop rotation, fallow fields, companion planting and composting.
4. Experience traditional Hungarian symbolism, motifs and architectural elements.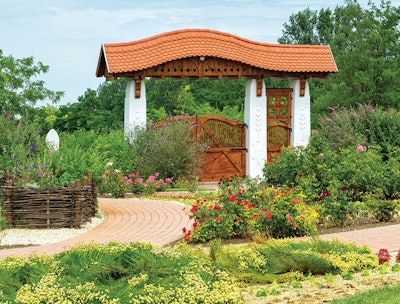 The closest nearby town is the village of Fülöpjakab (pronounced "Foo Lope Ya Cob"). This is a small town, surrounded by acres of organic farmland, with a restaurant, a post office, a grocery shop and a school. Idyllic to the countryside experience, Fülöpjakab is quaint and charming. Each summer, the town hosts a festival to celebrate Hungarian traditions and visit all the nearby farms.
When seen from above, the red brick paths, fields and farm structures at the Eminence Certified Organic Farm form the unmistakable shape of the tree of life. There are hundreds of carvings covering every structure and every single fence post. Each was carefully hand carved by skilled Hungarian sculptors.
5. Honor and meet some of the dedicated, hardworking Hungarians who have been instrumental in growing Eminence Organic Skin Care.
Mátyás Nemes was honored as Organic Farmer of the Year by the Biokultura [Organic Culture] Association in Hungary, Mátyás helps select seasonal plants and shares his years of knowledge with the caretakers. Gábor Szűcs is a celebrated landscape architect, awarded Hungary's Landscape Architect of the Year. Gábor designed the Eminence Certified Organic Farm to showcase the harmony between people and nature. Jószefné Koronczay grew up watching her mother grow fruits, herbs and vegetables in the garden, and eventually worked as an esthetician, relying on decades of farming knowledge to make skin care products. Though since retired from her esthetics career, Jószefné visits the farm often. The last name may seem familiar because Jószefné is mother to Boldijarre Koronczay and Attila Koronczay, the brothers at the helm of Eminence Organic Skin Care.
Over the years, Eminence Organic Skin Care has had a significant amount of inquiries from people wanting to visit its farms. Responding to this demand, Eminence decided to make one of the certified organic farms a family-friendly tribute to Hungarian heritage. "We want to help as many people as possible understand that you can actually heal the earth (and in some cases, leave it a better place than you found it) through organic farming," explains Boldijarre Koronczay, president, Eminence Organic Skin Care.
To celebrate the grand opening of this farm, Eminence Organics is giving away a trip of a lifetime! To win an all-expense paid trip for two to Budapest and tour the Eminence Certified Organic Farm, upload a video of two minutes or less showing why you love Eminence Organic Skin Care. Visit www.eminenceorganics.com/farmcontest to enter now! Entries close by May 30, 2017! The grand prize winner will receive round-trip airfare for two, four day/three night luxury accommodations, daily breakfast, a tour of the famous Hungarian spas, a guided tour of the Eminence Certified Organic Farm and $500 USD in spending money.
[Images courtesy of Eminence Organics]