There's more to these blooming beauties than just a seductive fragrance.
A timeless symbol of love and passion, the rose is synonymous with luxury. This woody perennial has over 100 species that grow as bushes, shrubs and vines. The plant's beautiful flowers—which bloom in a rainbow of colors—not only look and smell exquisite, they've also held a key role in beauty treatments for centuries. But roses aren't a standout solely for their delicate blossoms: Learn why experts won't be ditching this classic spa staple anytime soon.
RELATED: Blooming Lovely: Why Rose Is a Skincare All-Star
There are many iterations of rose within the skincare world. The two most common are Rosa damascena, Damask or Bulgarian rose, which has a deep, powerful scent; and Rosa centifolia, Provence or cabbage rose, with a lighter, sweeter fragrance. Rose hip—the fruit of the rose plant that's exposed once the flower petals have fallen—is one of the richest plant sources of vitamin C. Rose hip seed oil, also sometimes confusingly referred to as rose hip oil, is cold pressed from the seeds of roses; rosewater is made by steeping the petals in water.
The flower can serve as an antibacterial, hydration or balancing agent, and is excellent for soothing skin: It has tremendous emollient properties, is rich in antioxidants and can act as an anti-inflammatory. Rose essential oil contains methyl eugenol, a local antiseptic and anesthetic that's ideal for dabbing onto the skin of acne-prone clients. A natural astringent, rose can serve as an alternative alcohol-free toner, and has been shown to refine skin texture and aid in the treatment of common skin rashes.
Rose emits a well-loved, calming and relaxing aroma—a soothing spa backdrop. According to a 2012 study conducted by Wellspring Pharmacy at Community Hospital North in Indianapolis, rose aromatherapy served as a successful complementary therapy in both anxiety and depression scales of postpartum women.
RELATED: Treat Your Loved One with a Valentine's Day Spa Package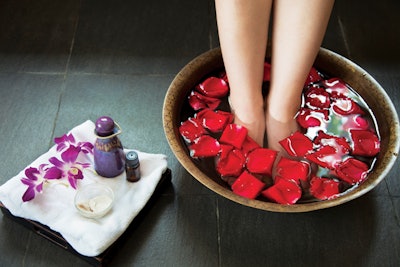 Rose is utilized in most of the treatments at the Stoweflake Mountain Resort & Spa in Stowe, Vermont, including the Organic Roses All Over Treatment (80 min./$194). This one-two punch features Ilike Organic Skin Care's Rosehip Exfoliator and Rose Petal Body Wrap. "Rose petals contain a natural anti-inflammatory that stops the enzymatic action, so there's no risk of overexfoliating," explains spa director Surinda Oberai Cavanagh.
"Rosewater has hydrating and soothing properties, essential for nourishing the skin," says Sitara Olomi, coordinator and resident ambassador for Jane Iredale at Nordstrom Roosevelt Field Spa in Garden City, New York. Olomi uses the brand's Smell The Roses Hydration Spray in her spa's Deluxe Collagen Velvet Facial (90 min./$150). "My clients appreciate that it delivers powerful antioxidants while hydrating and conditioning their skin," she says. "They love the formula because it offers a little post-treatment pick-me-up that sets their makeup and locks in moisture."
Justine Selz, manager at Studio M in Palm Springs, California, showcases SpaRitual's Yuzu Rose line in her spa's Luxury Manicure (50 min./$45) and Luxury Pedicure (50 min./$60). "The scent itself is beautiful," says Selz. "It's an extremely calming fragrance that helps provide a great client experience."
Rose is used as a head-to-toe beauty tool at the Allegria Spa at Park Hyatt Beaver Creek Resort and Spa in Beaver Creek, Colorado. General manager Gaye Steinke uses several Jurlique rose products in the spa's La Rose en Vie Full Body Package (150 min./$315). This all-encompassing treatment combines a lavender and rose body treatment with a rose quartz facial, and employs rose oil in the latter to treat acne, protect against environmental damage and reduce redness in mature skin. "Both uplifting and relaxing, the deep rose scent in our services lingers beyond the treatment room and encourages other guests to book our rose services," says Steinke.
–by Olivia Hall
Rose Products