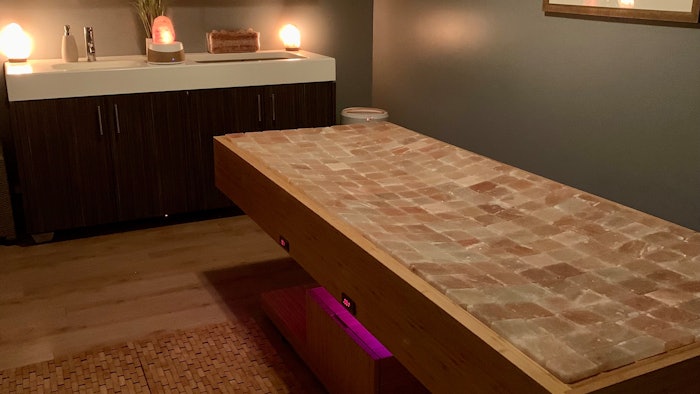 There are a variety of ways to incorporate salt and salt therapy into your spa. The San Diego Mission Bay Resort's Spa Brezza uses its Himalayan Salt Table to provide an experience between a massage and Himalayan body scrub to clients. This table can also be used as a standalone wellness treatment and act as a meditation experience. 
Related: How to Design a Halotherapy Room
Spa Brezza guests can experience 25 minutes on a natural heated Himalayan salt block table with enhanced aromatherapy, including sounds for meditation, and personal Himalayan salt stone therapy treatments can also be performed. The direct contact between the salt table and the body delivers the healing benefits of salt right to the skin, improving circulation, helping lower blood pressure, supporting a healthy respiratory system and sinuses, reducing inflammation, improving skin deficiencies and relieving anxiety and insomnia. 
"Holistic wellness is a key focus of the programming at Spa Brezza and being able to offer our guests as unique of an experience as halotherapy (salt healing) and the Himalayan Salt Table is very special," says Molly Flynn, director of spa and wellness at Spa Brezza. "We believe very strongly in the power of halotherapy and have plans to continue building our programming even further in the coming months."
Related: [Salt Therapy] How One Spa Supports Its Staff
Learn how you can design a Halotherapy treatment room by attending the WellSpa 360 Expo virtual event, taking place September 21-22. The event will feature a class on halotherapy with Ann Brown, as well as a multitude of other advanced educational sessions with industry experts to boost your wellness knowledge and elevate your spa. Make sure to register if you haven't already!