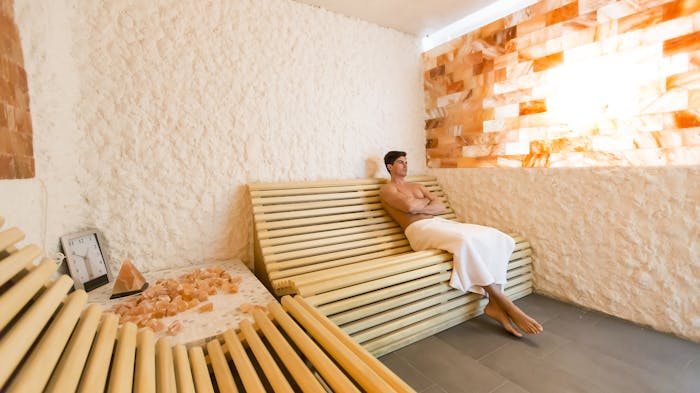 One aspect of the wellness industry that has been trending and growing is halotherapy, and more specifically salt rooms. We are bringing you top notch education on how you can design your own halotherapy rooms that your clients will absolutely love at our WellSpa 360 Expo virtual event. We brought in industry expert Ann Brown, CEO/founder of Saltability and cofounder of Himalayan Source, to provide you with top tips and tricks to boost your profits with with a salt room. 
Related: Counting Down to First Ever WellSpa 360 Expo
During Brown's session titled "Designing Halotherapy Rooms," happening on September 21, 2021 from 4:30 - 4:55 pm, she will cover everything from Himalayan salt pods to installing salt panels. Learn about today's options for easily creating halotherapy environments in your existing spa spaces. Turning a treatment room into a single-use salt room creates a new avenue to support guest health—with a particular focus on respiratory support—and to increase your revenue.
Related: 3 Classes to Amplify Your Treatment Room at WellSpa 360 Expo
Brown will cover these top three topics in depth:
How halotherapy works

Options for stand-alone treatment (no therapist commission to be paid) and/or add-on/upgrade in conjunction with a facial or massage
Today's Himalayan salt concepts for halotherapy rooms
Related: Boosting Your Spa's Financial Wellness
A 20-year spa industry veteran, Ann Brown has built a career helping spas increase revenue, innovate treatments for greater sustainability and increased client benefit, and establish reputations for exceptional signature experiences. Through Saltability and Himalayan Source, she is known as a spa industry leader in Himalayan salt concepts and treatments.
Related: Well Rounded Education: 5 Opportunities You Can't Miss
Make sure to register for this and all of our advanced education sessions for the WellSpa 360 Expo virtual event. Don't forget, if you are too busy to attend the live sessions on September 21-22, 2021, you will be able to attend all of the session on-demand for 60 days post-show.