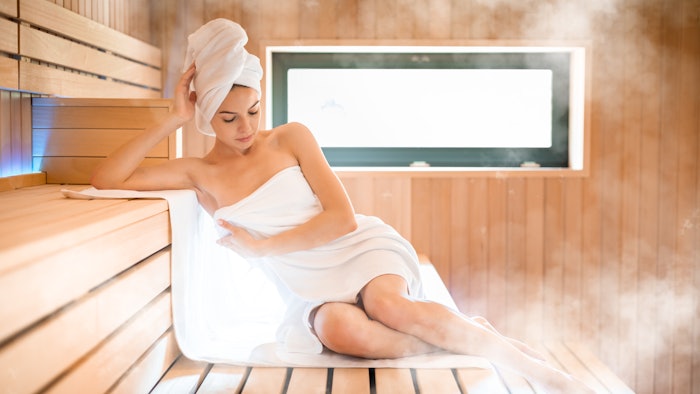 Rosewood Hotels & Resorts is offering a collection of contrast therapy treatments throughout the remainder of the summer that encourages self-discovery and enhances guests' physical and mental states. The treatments emphasize the balance between hot and cold temperatures, the healing properties of herbal water and the enhanced relaxation from Himalayan salt saunas.
Contrast therapy is derived from the abundant benefits of exposing the body to hot and cold temperatures in quick succession. Often done in the form of bathing, this practice is known to enhance circulation, relieve tension, improve immunity and promote mental health. The thermal therapies found at participating Rosewood hotels and resorts provide guests with restorative journeys for the mind, body and soul and help guests connect with themselves and their surroundings.
"Contrast therapy is a simple yet powerful practice that has been around for centuries, and it is exciting to see the technique implemented in new ways that cater to the routines and lifestyles we have developed as a society today," said Emmanuel Arroyo, senior corporate director of wellness at Rosewood Hotel Group. "Driven by Rosewood's ongoing commitment to providing enriching and locally inspired experiences that create real impact for our guests, we are thrilled to be able to support travelers in their pursuit of health and well-being through these innovative journeys we have created for the summer season."
Related: 7 Sleep Retreats From Rosewood Hotels
1. Rosewood Mayakoba
Inspired by ancient Mayan medicine, the resort's Curative Fire & Ice Therapy features warm and cool stones to relax muscles and provide a deep sense of relaxation. The combination of stone therapy and massage improves circulation, reduces muscular tension and leaves guests feeling uplifted and invigorated. Rosewood Mayakoba is also home to a traditional Mayan Sweat Lodge that is incorporated into various treatments, along with a cold plunge that guests can couple with other experiences to achieve contrast therapy.
2. Rosewood Baha Mar
Influenced by the healing practices of the Arawak Indians, the Arawak Body Balance harnesses the powers of the hot and cold to help strengthen the immune system and offer relief from various illnesses. This ancient remedy commences with a natural exfoliation using a sea sponge to help increase blood flow throughout the body, followed by a body wrap using the Moringa Leaf, known in the Bahamas for its rich antioxidant and anti-inflammatory properties. Guests then gently cool down with a bespoke Bahamian Ointment made with rosemary and sage to cleanse and purify the body during a soothing full-body massage.
3. Rosewood Le Guanahani St Barth
The resort's Return to Balance treatment begins with a salt foot soak and exfoliation, followed by a cooling wrap to improve the overall appearance of the skin. The experience concludes with hot compresses of ginger, lemongrass and mint to release energy and relax the muscles.
4. Kona Village, A Rosewood Resort
Built into the island's stark black lava flow, the destination's offerings include the dedicated Anu A Wela journey, a hydrotherapy circuit in a steam sauna followed directly by a cold plunge to fully awaken the senses ahead of a mamaki tea-infused foot soak ritual that is focused on mindful release through the healing therapies of herbal water. The treatments rejuvenate the body, slow the mind and reset the soul, all while using water as a carrier towards deep relaxation.
5. Rosewood Luang Prabang
The spa at Rosewood Luang Prabang offers a traditional Lao Herbal Poultice, which combines heat, steam and herbs, including Crinum Lily, Camphor Tree Coriander, White Butterfly Bush, and Lao Rice, that work together to reduce aches, stimulate blood circulation, increase lymphatic drainage and detoxify and condition the skin.
6. Rosewood Villa Magna
The Mayarit Hammam Ritual is inspired by the beauty traditions of North African Berber women and involves thorough exfoliation using traditional black soap and an authentic Kessa glove. Guests can also experience Balancing Stone Therapy, which utilizes warm and cool stones to relax muscles, calm the nervous system, improve circulation, reduce muscular tension and eliminate toxins.
7. Rosewood Miramar Beach
New to Rosewood Miramar Beach this summer, the CBD Total Reboot Contrast Therapy session begins with a dip in the immersive freestanding cold plunge pool situated on the spa rooftop, set against sweeping mountain and ocean views. Guests then head to the dry sauna and steam rooms for vasodilation and vasoconstriction. This pre-massage ritual prepares the body and mind for further contrast therapy delivered by a Hypervolt percussion tool, a heated lavender compress, and a cooling full-spectrum CBD balm blend.
8. Rosewood Guangzhou
As part of its Asaya Active experience, Rosewood Guangzhou offers a special Himalayan Salt Sauna with stones salt stones that create an environment to help relieve mental fatigue and regulate the balance of acid within the body. As with traditional saunas, the heat also supports the relaxation of the muscles and replenishes energy.