When I was in Northern California for Face & Body San Jose, I visited the beautiful Sense Spa at Rosewood Sand Hill for a refreshing facial that would prep my skin for the changing season. 
Now you know me—I've fallen in love with treatments that have both clinical and holistic aspects, so I was beyond thrilled to experience Sens Spa's QMS Revitalizing Fire and Ice Facial. Aimed at detoxifying and revitalizing the skin, the treatment combines more clinical, collagen-rich QMS Medicosmedics products with holistic hot and cold therapies for a truly radiant complexion. 
My therapist Amanda started with an in-depth consultation where we discussed my concerns, my current skin care regimen and the state of my skin. She decided to focus on decongestion and antiaging, and began the facial. 
First was a creamy oil cleanse, followed by a detoxifying cleanser designed to fight the effects of pollution—an ideal choice as I had just taken a flight out there that morning. Next, Amanda applied an AHA and enzyme peel; while that sat, she performed an amazing neck, upper back and shoulder massage using an antiaging collagen cream. 
Amanda layered on another peel containing enzymes, kaolin clay and probiotics, then left that on my skin as she applied an exfoliating body foam to my arms and hands. When it was time to remove the peels, she gently worked them into my skin before deactivating them with water and washing them off. 
All that peeling and de-gunking made extractions blessedly quick easy, and Amanda finished that step off with a hydration booster and intensive eye treatment.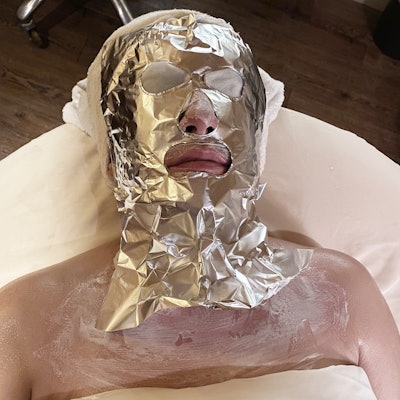 Now that my skin was properly prepped, it was time for the warming Cinnamon Oil Thermal-Active Revitalizing Mask. Amanda applied the cinnamon bark mask to my skin, followed by a layer of collagen gauze and topped with tin foil. I could feel the mask heating up, and the foil really kept that heat in and circulating around my face.
It never got uncomfortable, though, and Amanda explained that the ingredients combined with the increased microcirculation would work to activate new cells and stimulate my body's natural collagen production.
At this point, Amanda applied an antiaging hand and arm lotion to my arms and hands, and massaged it in as the mask worked its magic. I was so relaxed that I began gently dozing, and the rest of the service is a little bit of a blur (in the best way!).  
Before I knew it, Amanda removed the tin foil and gauze, then worked the mask into my skin before washing it off. 
The Oceanic Cooling Algae mask followed, deliciously cool after the heated cinnamon. Amanda explained that the mask would help rebalance my skin for a more plump and smooth look. She performed a decadent scalp massage while the mask set, and I officially slipped into slumberland. 
Amanda removed the peel-off mask, then applied some targeted redness relief serums before performing a cryo globe face massage to really cool my skin. Cryo globe massages are a favorite of mine! The cooling sensation combined with way they glide across my facial muscles is so uniquely relaxing; it's as if my whole body is cooling down along with my complexion. 
Next came the layering of serums, all targeted to complement the hot/cold therapies and promote super soft, healthy skin. Amanda also applied another eye treatment and cream, plus a lip line corrector. She followed that with a moisturizer, SPF and final tinted lip treatment before sending me on my way. 
I left that treatment room noticeably glowing, and my face was the softest it has been in a long time. The Fire and Ice Facial definitely removed all that congestion that had built up over the summer and reinvigorated my complexion completely. Over the next few days, I worked at the trade show and took a flight home, and my velvety skin looked radiant the entire time!