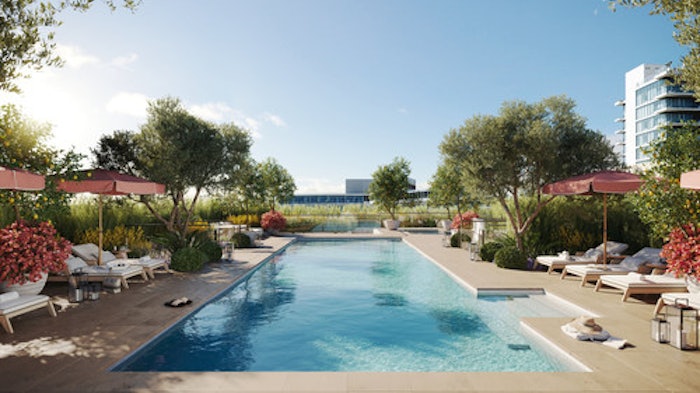 Photo courtesy of Rosewood Hotels & Resorts.
Rosewood Hotels & Resorts announced the brand's first standalone residential condominium development in California: Rosewood Residences Beverly Hills. The project, developed by Nahla Capital and GPI Companies, will have 17 luxury residences and is slated for completion in 2024. 
Rosewood Residences Beverly Hills will feature exterior architecture and interiors designed by Thomas Juul-Hansen, inspired by California's timeless sophistication (part of Rosewood's "A Sense of Place" philosophy). Ranging from 3,000 to over 7,000 square feet, the resort-like property will offer homeowners a rooftop retreat with a pool, whirlpool spa, fitness center and outdoor relaxation areas. 
The condominium will also have private swimming pools in nearly half of the residences, and amenities such as outdoor kitchens, wet bars and firepits. Every private home will have a private elevator, indoor and outdoor spaces, a chefs' kitchen with double islands and a mudroom/laundry rooms accessed by a service elevator. 
The location will be managed by a dedicated Rosewood Residential Team that will oversee the property's luxury service offerings. 
"As the popularity of standalone branded residences continues to grow, Rosewood Hotels & Resorts is thrilled to present this opportunity to enjoy the height of living in the prominent market of Beverly Hills," said Brad Berry, vice president of global residential development at Rosewood Hotel Group. "Thoughtfully conceived to extend the utmost in design, service and experience, Rosewood Residences Beverly Hills is poised to emerge as one of the most desirable destinations not only in California but across the country."