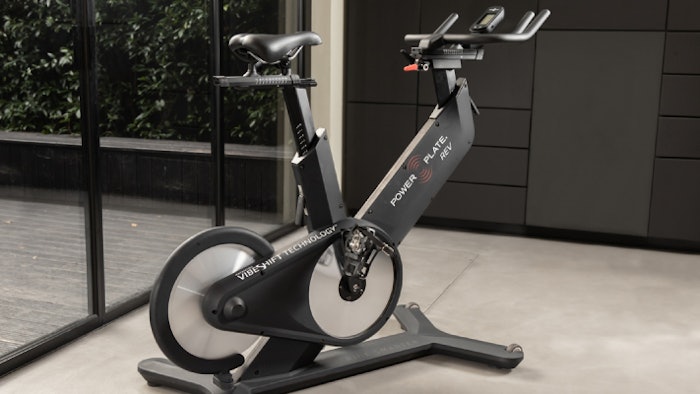 Photo courtesy of Power Plate
Power Plate introduced the Power Plate REV as the first health, fitness and wellness product to deliver the benefits of vibration in a cycling modality.
The Power Plate REV was formally launched in the U.S. at the International Health Racquet and Sportsclub Assocation (IHRSA) convention on March 21-22, 2023 in San Diego, CA. The device's patent-pending VibeShift Technology provides safe and precise user-generated mechanical vibration through the pedals to maximize the intensity of a workout by increasing muscle activation, oxygen uptake, calorie burn and cardiovascular effort. 
The Power Plate REV offers any health and fitness facility a vibration concept that delivers accelerated results to their members and clients, as well as maximum cardio, strength, and wellness benefits in a minimum amount of time, while driving more muscle activation.
Related: How to Improve Your Spa's Fitness Offerings
Featuring proprietary programming to meet a wide variety of needs, from better overall health to intense elite training, incorporating the Power Plate REV into a fitness facility's offering will attract new and retain current members, establish a point of difference and create a competitive advantage. Power Plate REV also integrates perfectly with other training modalities on the gym floor for added variety and flexibility of use.
"When combined with Power Plate whole body vibration, the Power Plate REV enables integrated vibration-centered programming to create opportunities for unique circuit training and group exercise programs, personal training and more," said Lee Hillman, CEO of Performance Health Systems, manufacturer of Power Plate. "And, engaging vibration on the Power Plate REV quickly elevates the user's heart rate making it perfect for HIIT/REHIIT applications."