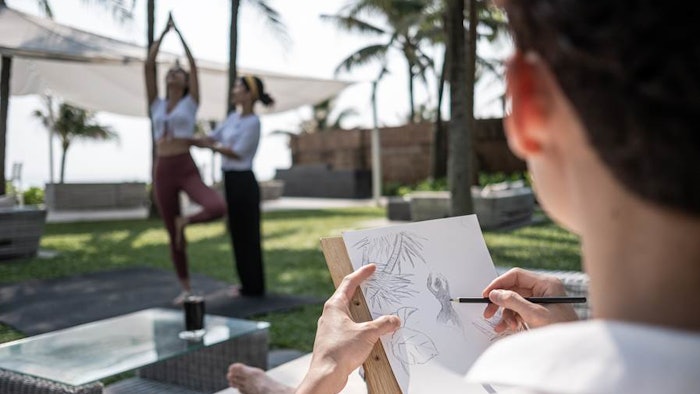 Photo Courtesy of TIA Wellness Resort
TIA Wellness Resort's Creative Healing Retreat harnesses the power of breathwork, art, energy healing and nourishing plant-based cuisine. The year-round private retreat is available as a four- or seven-night offering and is designed to alleviate stress or anxiety in guests to release negative feelings and feel more vibrant and centered.
TIA Wellness Resort is situated along a picturesque stretch of powdery sand in Da Nang, Vietnam. The property features 87 private pool villas, an infinity pool overlooking the ocean and an adults-only pool within the wellness center. TIA also has a full fitness center, in addition to a yoga studio and meditation room.
The Creative Healing Retreat draws on three main elements that are offered daily: Reiki, creative art workshops and breathwork. It begins with a pre-arrival consultation, wellness guidance and intention setting through the newly-launched TIA app. The TIA app also has practices and reminders for guests after their stay.
The first pillar, Reiki, is a form of energy healing developed in Japan. It has become more mainstream as a wellness tool and is now common in Western hospitals as an alternative medicine. The practice, which embraces the idea that we are more than just our physical body, works by releasing emotional and mental blocks that we hold onto on an energetic level.
The second pillar of creativity draws from the idea that just as people learn differently and release emotions differently. Creative workshops use art exercises to help participants reflect, express and release stress and negativity.
Related: How to Host a Successful Wellness Retreat
The third pillar harnesses the power of the breath, the easiest self-help tool that is always available. Mindful daily breathing gives rise to a myriad of benefits from regulating blood pressure and improving immune system function to creating calm, peaceful feelings.
The pillar techniques are complemented by daily therapies at the 22-treatment room wellness center, including aromatherapy massages, Himalayan heart stone treatments to relieve tense muscles and sound healing through singing bowl sessions. Yoga and Tai Chi are optional extras available each day.
A plant-based meal plan is an essential part of the retreat, ensuring participants get the full benefit from the program through balanced nutrition. The property follows an "Eat light, Feel bright" food philosophy that highlights nutrient-dense, whole foods. The biggest meal of the day is breakfast with the smallest number of courses on offer at dinner.
While the four-night option centers on time at the property, and in the wellness center, the seven-night stay incorporates exploration of the destination and putting some of the practices learned into play in local places of spiritual significance. Highlights include a private Tai Chi session in the Marble Mountains, five limestone and marble peaks named for the five elements and meditation at Lady Buddha, Vietnam's tallest Buddha statue.
"People want to go deeper, they want to get more from their holidays than just time on the beach or in the spa," said Ramon Imper, general manager of TIA Wellness. "They want to use their time away to reflect, reenergize and reimagine their everyday life. We are equipped with all we need to self-heal but sometimes we need a little guidance and to step away from the demands of daily life in order to do that. We provide a safe and supportive container here at TIA and the tools needed to help our guests come back to a more balanced state, and to take those feelings and practices after they leave."