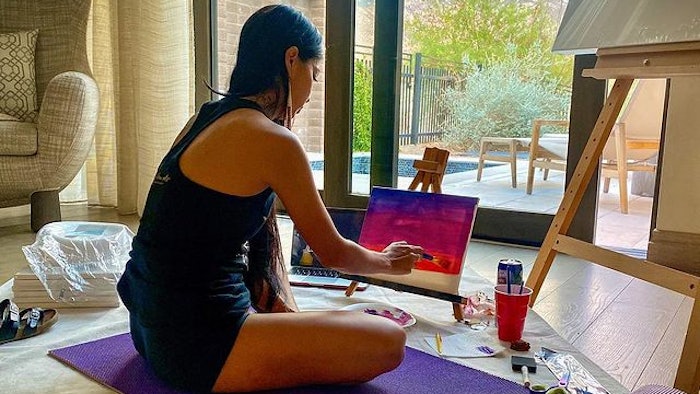 Courtesy of Miraval Arizona
Miraval Resorts has introduced Celebration of the Arts, a program designed to promote the therapeutic benefits of the arts. Launching at all three Miraval destinations, each location will debut art programming that helps encourage spiritual and emotional nourishment. 
Miraval Arizona recently invited Lucinda Hinojos to be artist-in-residence in July 2021. Hinojos is a self-taught muralist and painter who advocates for women's and immigrants' rights through her work, and she has frequently worked with immigrant rights organizations to organize art shows. During her residence, she created a mural that embodies her artistic flair and values. Guests can also experience Paint the Music, a thought-provoking workshop that uses music to immerse guests in an unconstrained and playful experience while guiding them to produce a personal piece of artwork. Plus, Artistic Expression Under Glass will teach them to embrace their artistic abilities and foster a greater sense of well-being through the art of reverse-painting, a technique that asks guests to work backwards and rethink their approach to accomplishing goals.
Miraval Austin will feature self-taught artist Sadé Lawson as its resident artist throughout August 2021. During her stay, Lawson will design a mural by the resort's Discovery Pool. Miraval Austin will also offer Mindful Mandala Rock Painting, a workshop where guests paint and sculpt mandalas that can be used to center oneself and connect with others. They can also partake in a class titled Suminigashi: The Art of Letting Go. During this activity, guests paint with ink on water, creating moving marble designs that flow without manipulation. 
Miraval Berkshires will have painter and graphic designer Jesse Tobin McCauley as its featured artist-in-residence, who will create a mural in the tunnel that connects the main resort grounds with the Meadowview Farm and Barn. Guests will be able to partake in the mural's creation process through interactive chalkboard frames that invite them to answer introspective questions. The property's new Manifest Your Desires: A Vision Board Creation is an activity in which guests utilize their creative spirit to construct a vision board, a visual representation of their goals and dreams actualized through imagery and artwork. 
"For years, the Miraval brand has championed the works of local artisans, from the sculpture collection at Miraval Arizona to the paintings within the halls of Miraval Berkshires, and has offered creative activities that allow guests to focus on the present moment and look inwards," said Susan Santiago, head of Miraval operations at Hyatt. "We're excited to launch the Celebration of the Arts this summer, which will further immerse our guests in the culture of their destination and help them cultivate meaningful relationships with themselves, other guests and our resident artists."