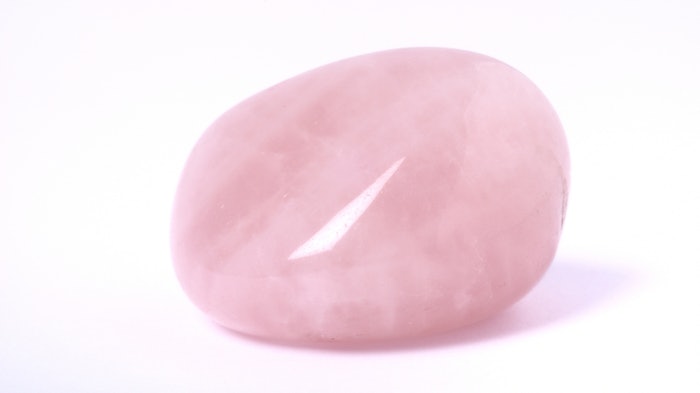 Like a diamond in a wedding ring symbolizing a union of love, or a ruby in a crown symbolizing royalty, crystals, minerals and gemstones are used as symbols of love, power, adornment and more. While crystals don't have any magic powers, they have been used for thousands of years due to their continual ability to help people. For some, the crystal helps create an energetic balance in their body, whereas for others the crystal simply serves as reminder to shift their energy and tap into their own power.
Related: 11 Gemstones for Your Treatment Room
If I had to pick only one crystal to be used in the spa setting, it would be rose quartz because it symbolizes the very essence of love. This pink stone is rich in mythology: Rose quartz was said to be brought down from the heavens by Eros (or Cupid in Roman mythology), as its beautiful pink hue would inspire love in humankind.
How perfect is this for a space where people come to be pampered, cared for and show themselves a little self-love? For those who are intrigued by the gentle, loving whisper of rose quartz, let's delve into some of the benefits and ways it can be used at the.
Benefits of Rose Quartz
Rose quartz is the stone of:
Unconditional love,
Self-love, acceptance and respect,
Compassion,
Hope,
Friendship,
Romance,
Comfort,
Forgiveness,
Gratitude.
Rose quartz is known for helping us to tap into the feeling of unconditional love, allowing us to accept it, offer it and to completely open ourselves up to it. Rose quartz reminds us to love ourselves, as we cannot accept love from others if we see ourselves as unlovable. The delicate energy that is emitted from this pretty crystal helps us look at our feelings of self-worth and reminds us to value ourselves.
The stone's blushing hue encourages us to see the beauty and gentleness in ourselves and everyone around us. It is helpful for dealing with all matters of the heart that involve loss or lovesickness, or even when you just need to feel a little more self-love. It aids the heart chakra and can offer gentle healing to soothe emotional wounds and sadness.
Rose quartz is a love stone and has been given through the ages as a token of affection between lovers, or even between friends to help them in their quest for love and happiness.
I believe that every spa and wellness center wishes for their clients to feel loved, valued and beautiful, and rose quartz is the perfect crystal to deliver this message.
Rose Quartz in the Spa Setting
Décor: Intentionally placed crystals in specific areas around the spa, such as near the center of the room, by the doorway or on your main counter, allows for positive energy and love to radiate out to everyone who enters your facility. A couple other options to inspire feelings of self-love around your spa are to fill decorative jars with small, tumbled rose quartz crystals, or place stones shaped like hearts in well-seen areas.
Treatments: There are many ways to incorporate rose quartz to elevate treatments to new heights. For facials, you can use rose quartz-infused serums to promote a rose complexion and soften the skin, and a rose quartz gua sha tool or roller will promote lymphatic drainage, improve circulation and help with the absorption of skin care products.
For massages, consider incorporating a rose quartz body serum with your current oil or using palm-sized rose quartz stones for the massage. They can be used much like hot stones (heated until lightly warm or just used at room temperature) and placed on and around the body to induce deep relaxation, relieve stress and promote the feeling of love.
Additionally, sending clients home with a crystal pack or even a stone that was used in their service adds a lavish touch. Quite a few spas even offer their clients crystal sets after a signature treatment.
It is important to note that rose quartz, like most crystals, needs to be energetically cleansed or cleared to restore it back to its natural loving vibration. This is especially true after it has been used as a part of a healing session or beauty treatment.
Retail: You can help clients feel more self-love and happiness by stocking some lovely rose quartz jewelry pieces on your retail shelves. There are so many unique designs at a variety of price points on the market.
Stocking crystal-infused beauty products and beautifully packaged crystals are the perfect addition to any retail, as well. These holistic products support your clients when they leave your establishment. Look for products that are ethically sourced and even infused with reiki or healing energy.
The enhancement of your client's feelings of self-love, inner peace and harmony helps them feel good about themselves, and they walk out into the world radiating positivity and beauty.
Andrea S. Barone is the founder and CEO of Crystal Hills Organics. She is a chartered herbalist and reiki master healer, with an educational background in organic skin care formulation, biological sciences and occupational health and safety.
Barone is passionate about promoting health-conscious habits and a better way of living that incorporates the healing powers of nature and the high vibration of crystals. She loves to help people lift their vibration so they can manifest their dreams and desires.