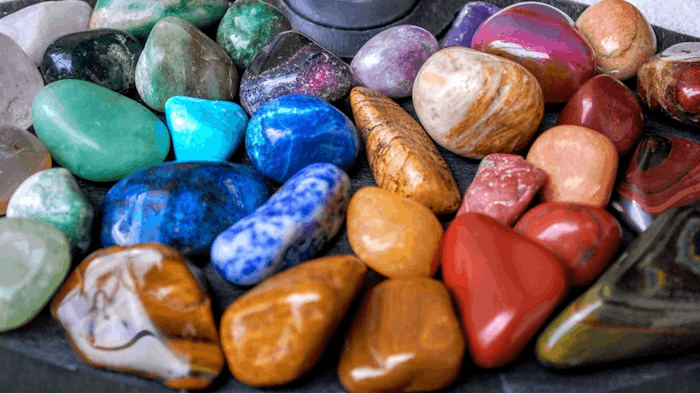 Crystals and gemstones are trending among spa-goers looking for ways to heal and balance their energy from within. Whether incorporating them into facials and bodywork or simply performing an energy-clearing crystal treatment, spa and wellness pros need to be up to date on how their crystals can work on clients' energy. 
In her recent Face & Body Norther California education session, "Customizing Crystal Healing Treatments," award-winning holistic esthetician and reiki master Linda Bertaut discussed all of this and more. She performed a live crystal healing demonstration on a lucky attendee, where she talked about techniques for safely choosing and placing stones on the face and body, as well as the wellness benefits of these 11 healing crystals. 
1. Black Tourmaline
Black tourmaline is a protector stone and works well for clearing out negativity. When placed at the first chakra, it can help ground and protect. 
2. Red Jasper
Red jasper is a vibrant, stimulating stone that is ideal for boosting confidence and courage. It is both grounding and stimulates physical life force. 
3. Carnelian
Carnelian is also a very stimulating stone. It can improve self-confidence, creativity and emotions, encouraging more passion for life. 
4. Orange Calcite
Orange calcite is ideal for improving confidence and self-worth, as it helps the individual expand their awareness, tune into their creativity and understand truths. 
5. Citrine
Citrine is known for mirroring the sun's energy, meaning it delivers a vibrant enthusiasm for life. It is energizing and revitalizing. 
6. Aventurine
Aventurine is a peaceful stone that works to soften internal barriers, encouraging forgiveness and gentle understanding. This can help heal wounds from the past and allow the person to speak from the heart. 
7. Rose Quartz
Well known as the stone of love, rose quartz is ideal for helping someone love themselves and share that love with those around them. It inspires connection with others. 
8. Apatite
Apatite is for communication. It helps people manifest a vision and gives them the ability to speak it clearly. Bertaut recommends it for guiding someone on their spiritual path so they can understand their own journey. 
9. Sodalite
Sodalite fosters mental focus and clarity, making it the ideal stone for someone who needs to understand and realize their dreams. 
10. Amethyst
When placed at the crown chakra, amethyst can connect a person with universal intuition. It's ideal for bringing forth inner wisdom, so it helps people resolve difficult issues. 
11. Fluorite
Fluorite, a resonance stone, connects the heart to the mind. It helps a person feel in tune with their own path, increasing their sense of self.