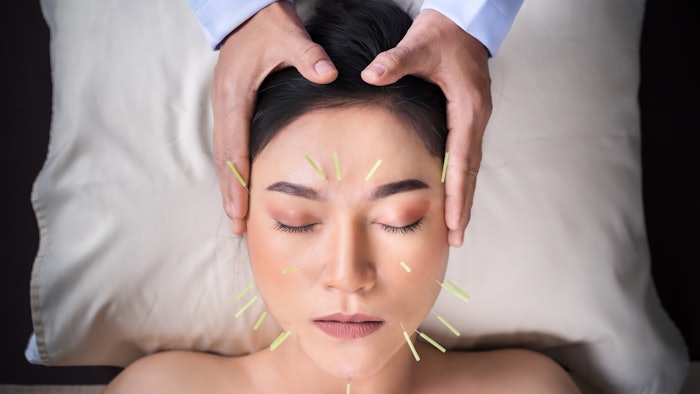 The ancient practice of acupuncture has prompted healing for centuries, but now more than ever, we are seeing this modality incorporated into spa and wellness services. Acupuncture has been known to aid in the treatment of chronic pain, stress, anxiety, depression, migraines and so much more. We chatted with top industry professionals on what to know about this method of Traditional Chinese Medicine.
1. What are the best acupuncture treatments to offer at spas?
Mona Dan LAc., MTOM: If a spa is considering incorporating acupuncture into your spa's menu of services, I strongly recommend implementing a specialized protocol designed to holistically engage the body's nervous system—particularly for first-time clients. Our comprehensive approach suggests a curated selection of 10-12 acupuncture points that intersect with each of the organ channels, aiming to reinvigorate the nervous system. When we partner with spas, we provide comprehensive training on our signature "Vie Healing Protocols." These protocols not only offer a baseline for holistic wellness, but also allow practitioners the flexibility to tailor their approach. They can integrate additional acupuncture points and Traditional Chinese Medicine (TCM) enhancements that would benefit the client immediately. Such enhancements could include our exclusive Vie Healing 24K Gold Ear Seeding, Cupping, Gua Sha, Moxibustion, and more, enriching the overall client experience.
Jacqueline Berry, Director of Spa and Well-being for Miraval Resorts & Spas: Traditional acupuncture is a powerful addition to any spa menu. While acupuncture can address a wide range of ailments, we typically find guests looking for calming and tension relief in a spa setting.
Shayla Thompson MAOM, Masters of Acupuncture and Oriental Medicine: The best focuses for acupuncture in a spa setting are reducing stress, soothing minor aches / pain and boosting the immune system. These are symptoms that can be addressed with other spa treatments as well, which makes booking complimentary back to back sessions convenient. Also improvement can be noticed with these symptoms in a single session. Complex issues such as hormone balancing, digestion or infertility are best in a medical setting.
Related: How to Implement Acupuncture Into Your Spa's Wellness Menu
2. How can you combine acupuncture with other treatments?
Dan: Acupuncture seamlessly complements a wide array of spa services, particularly those focused on energy work. In our spa setting, we often merge acupuncture with both massage and Reiki sessions. These treatments can be performed sequentially or concurrently, based on the client's preference and needs. Moreover, acupuncture pairs excellently with our other Traditional Chinese Medicine (TCM) options, including our premium 24K Gold Ear Seeding, Gua Sha, Cupping, and Moxibustion, to provide a fully integrated wellness experience.
Berry: Acupuncture pairs nicely with a range of spa treatments. At Miraval Life in Balance Spas, we have had great success with pairing acupuncture needling with Eastern and Western massage techniques and energy work. The services work synergistically and the benefits and efficacy are increased in all of them when combined.
Thompson: Acupuncture works very well with most other styles of body work. Massage: If the patient is very tense a massage first allows the body to receive the needles better. For patients who are nervous about needles, receiving massage before or after acupuncture can help ease them into or out of the session. Chiropractic: Receiving acupuncture after an adjustment can help the body retain the new posture for longer. Physical Therapy: There are special techniques that can target tendons and ligament healing. Specifically, proloacupunture requires continuing education. Sound Therapy: The benefits of sound healing can be enhanced when combined with acupuncture in private sessions or with groups. For example, a sound bath with crystal bowls can be offered while each participant receives a few acupuncture points.
Continue reading about the wellness benefits of acupuncture in our November Digital Magazine...