A primer on acupuncture treatment and how spas can go with the flow.
The origins of acupuncture, a therapeutic practice recognized as a staple of Traditional Chinese Medicine (TCM), predate recorded history. Ancient ruins and hieroglyphics have revealed that needles made from sharply refined stones were used to treat disease in China perhaps as early as 1000 B.C. Many texts on its use were written in the centuries that followed, but it wasn't until the 16th and 17th centuries during the Ming Dynasty that the practice was broadly developed and shared beyond China's geographic borders. Fast forward to the 1950s, when the People's Republic of China leader Chairman Mao decreed the use of acupuncture alongside Western medicine in that country.
In 1971, when American journalist James Reston received acupuncture for post-appendectomy pain while in China covering President Nixon's upcoming visit, the practice finally gained some traction in the U.S. Numerous studies and clinical trials later, a wide swath of the American medical establishment has come to recognize acupuncture's value in treating a range of maladies. A partial list includes: acute and chronic pain, stress, inflammation, hypertension, low energy, insomnia, depression, anxiety, migraines, allergies, asthma, flu, digestive problems, infertility, morning sickness, colic, substance dependencies and skin disorders.
RELATED: The Ancient Remedy Willow Bark is a Skincare All-Star
How can one treatment method address so many health issues? Simply put, acupuncture isn't meant to relieve these problems directly; it is designed to prompt the body to right itself via its own natural self-healing ability. This is accomplished through the practitioner's stimulation of very specific anatomical "acupoints" that, once properly triggered, facilitate the flow of energy, or "qi," throughout the body. The widely accepted theory is that when the body is not functioning properly, it is often due to a blockage of qi that prevents its flow along pre-established pathways, or "meridians."
Acupoint stimulation can be achieved via heat therapy, topical herbal preparations, cupping and manual massage, but it's most typically accomplished with the use of fine, sterile needles inserted into the skin. The effectiveness of this technique is so well documented that acupuncture is covered in many U.S. health insurance plans, and is practiced in hospitals, medical offices, alternative healing centers and, yes, wellness-oriented spas.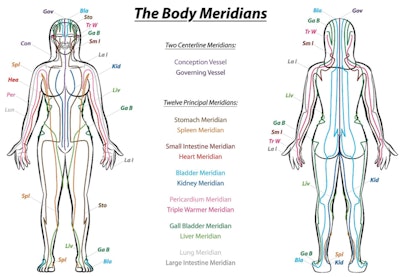 Practical Applications
A recent National Health Interview Survey estimates that more than 14 million U.S. citizens use or have tried acupuncture.
And as spas evolve from luxurious pampering palaces to beauty- through-wellness centers, acupuncture has been popping up on service menus across the country. At Red Mountain Resort in Ivins, Utah, the service is offered to guests seeking various types of assistance but there are some common themes, reports wellness manager Brad Crump, DC. "Most often, our guests seek relief from pain and discomfort," he says. "The most common of these would be back and hip pain, although shoulder and neck issues are also very typical. The next most frequent reason for acupuncture treatment is stress and sleep challenges. And finally, many guests just want support for their overall well- being—a stronger immune system and more robust energy levels, for example."
RELATED: Alternative Health: Cupping to Relieve Back and Neck Pain
On the other hand, Beverly Hills, California-based holistic facility Vie Healing zeroes in on some very specific complaints. "We deal with superficial conditions like mild pain, rashes and eczema, but also internal concerns related to hormone imbalance, endocrine issues, diabetes, thyroid problems and women's health (like infertility and menopause)," says owner and acupuncturist Mona Dan.
Implementing acupuncture outside a traditional medical setting is becoming more common and, because the practice requires little in the way of equipment, it transitions easily to the spa setting. Dan lists her supplies as a clean area with a treatment table, sterile needles, a sharps container, cotton swabs and a washroom. A small room is fine for treating an individual client, although it's also possible to create "community acupuncture settings where multiple people are treated in one large area," observes Dr. Crump, who also points out that reclining or zero- gravity chairs can work just as well as massage tables during this type of service.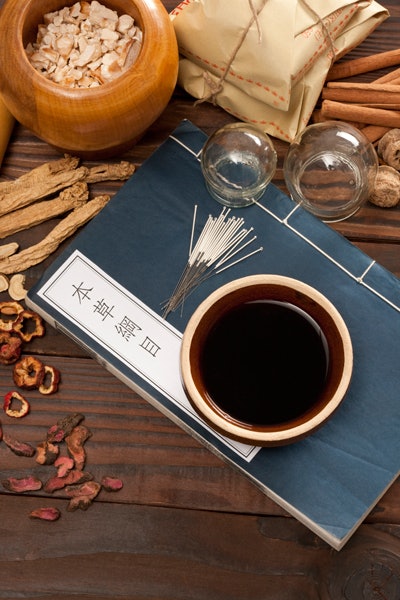 Keep in mind that acupuncture is not really meant to treat one isolated problem. "While each acupuncturist is different, most address multiple conditions at one time," notes Jamie Starkey, licensed acupuncturist and manager of the Eastern medicine program at the Center for Integrative and Lifestyle Medicine at the Cleveland Clinic, with several locations in Ohio. "The idea is to treat the whole person, so oftentimes individual symptoms are related (according to Chinese medicine theory)."
If you're considering adding acupuncture to your wellness menu, you must familiarize yourself with your state's laws regarding legal practice. "Training and certifications vary from state to state, with some requiring training and credentialing through a school of TCM," confirms Dr. Crump. In some areas, just qualifying to take the licensing examination involves at least 3,000 hours of theoretical and clinical training from an approved program.
Finding the right practitioner is absolutely crucial. Beyond the minimum education and training requirements, practitioners need to possess people skills like every other in-spa professional. "A spa owner should feel comfortable with the way an acupuncturist communicates and carries out their responsibilities," says Dan. "Being able to explain and educate is key to retention." This is especially important for first-time clients, who may need to be briefed on the basics of acupuncture and what to expect on their first and subsequent visits—the sensations they might experience, for instance, and what to do if they become uncomfortable. Schedule an extra 15 minutes before a first-time guest's appointment to give the practitioner time to acclimate them and answer any questions prior to treatment.
RELATED: The Benjamin Hotel Launches In-Room, On Demand Meditation
An acupuncturist must also know what not to say to a client. There's a big difference between scientific evidence and anecdotal information, and there are laws regarding making false medicine claims—even unknowingly. Unless a verifiable study exists to back up a claim, practitioners should not state with certainty that a treatment will absolutely cure or even resolve a particular concern.
Mitigating Risk
Acupuncture is considered a medical procedure, and not every client who walks in the door is a candidate for treatment. "Acupuncturists are trained to understand their limits, which includes knowing when to refer out," says Mona Dan.
Brad Crump, DC, wellness manager at Red Mountain Resort in Ivins, Utah, shares some of the most common contraindications for acupuncture:
Drug or alcohol impairment
Presence of a pacemaker
Use of blood thinners or presence of hemophilia
Seizure disorder
Certain skin disorders, including active infections or open wounds
Abdominal or lumbo-sacral needling, or stimulation in pregnant clients
In addition, safe practice guidelines dictate the appropriate storage and disposal of needles, consistent hand-washing procedures, adherence to practices related to blood-borne pathogens, and disinfection of treatment areas.
For business protection purposes, remember that documentation is everything. "We have consent forms and patient care agreements, as well as limited liability insurance and HIPAA forms protecting patient privacy," says Dan. It may also be possible to obtain acupuncture-specific coverage, including malpractice, through a medical business insurer or with help from a membership organization such as the American Acupuncture Council.
–by Linda Kossoff