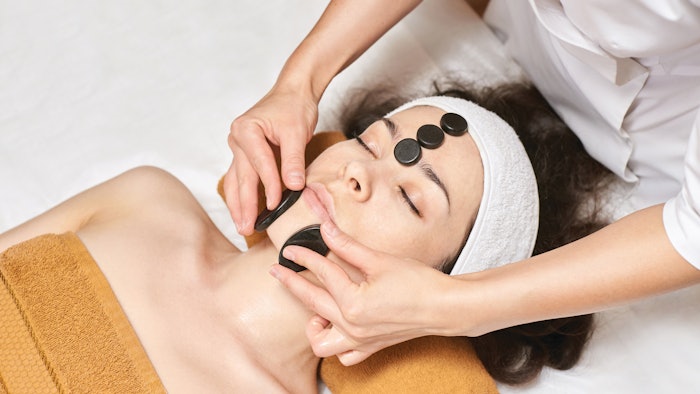 In today's ever evolving spa industry, it's essential to integrate advanced medical treatment protocols with established wellness modalities, as a way to create minimally invasive procedures that produce both reliable results and an elevated client experience. One way to achieve this is through the coupling of microneedling and hot stone gua sha therapy. At first glance, these two treatments seem wildly contradictory, however the application of gua sha therapy may potentiate the benefits of traditional microneedling.
Clinical + Holistic
Microneedling, a form of percutaneous collagen induction therapy utilizing small, short needles to puncture the skin, is both an effective and minimally invasive treatment commonly utilized in skin rejuvenation. This procedure is successful in the treatment of acne scarring, fine lines, wrinkles and textural skin concerns. Microneedling is excellent for delivering nourishing ingredients into the deeper layers of the skin for an overall radiant, glowing complexion.
Typically, the preparation for microneedling is relatively simple and includes a thorough cleansing, followed by an application of alcohol to remove excess oil. At the Eclipse Spa, our practitioners are unique in that we pursue the integration of both holistic and clinical modalities within many of our treatment protocols. For microneedling, this includes performing a gentle hot stone lymphatic drainage massage using gua sha facial techniques to prep skin for the procedure.
Hot stone gua sha is an exceptional esthetics modality that's also incorporated well into many medical spa procedures. As the warmed stones are massaged on the skin, clients may experience relief from muscle tension, quiet relaxation, an increase in microcirculation and improved lymphatic function of the treatment area. Increasing blood flow to the skin prior to microneedling is advantageous, as it nourishes the cells, carries away waste through the lymphatic system, decreases puffiness, diffuses congestion and brings healing oxygen to the skin—all of which results in better clinical outcomes overall.
Continue reading our Digital Magazine for more insight on this combination treatment...
Kristen N.M. Johnson, RN, LE, is co-owner of The Eclipse Spa in Westminster, Maryland. With more than 10 years of experience in luxury spas, she is passionate about creating a unique and indulgent experience for each guest, specializing in the development, education and implementation of innovative treatment protocols. Johnson is an Usui reiki master and teacher, and she holds advanced training and certifications in holistic and integrative health, aromatherapy, acupressure, auriculotherapy, facial cupping, facial reflexology, crystal therapy, chakra healing and more.