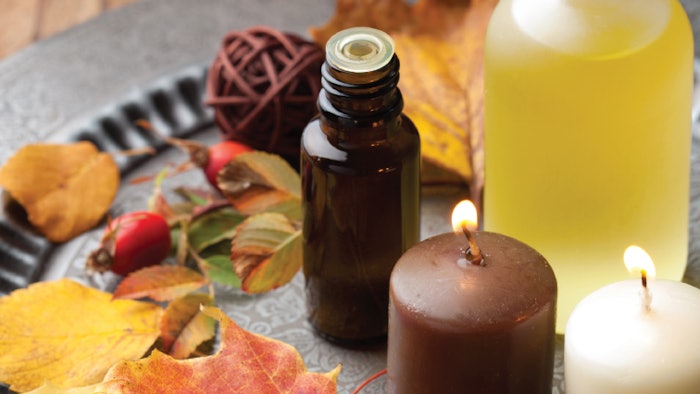 Autumn can be a time to go inward, to come inside from the long summer days of fun and friends, start new routines, end old arrangements and cozy up to oneself. It can be a powerful season of transition, with kids going back to school, parents setting new schedules and many other adjustments that can add stress to everyday life. Spa industry professionals might be booking facials for teens before their first big day, massages for parents with time away from the kids, or services for others simply looking for a chance to slow down a bit before the big holiday push. Of course, daily stressors can exist regardless of the season, and as spa professionals, we have an opportunity to offer our clients a luxurious moment of escape.
When we welcome clients into our space, we give them a safe place to fall into a practice of ease and care. The aesthetic choices that we make to enhance our services can arouse each of the human senses, and we take every step to make sure every one of the client's senses is nurtured.
While the sensation of touch may be our primary focus, our efforts would be amiss if we didn't also take care to treat the guest at every point of their experience. Consider the sound of the gentle fountains of cool water that may grace your reception desk to help relax the client upon entry, or the sight of crisp white towels and robes that warm and welcome them into the treatment room. Even your fresh cucumber- or herb-infused water lets guests taste that they are somewhere special.
We all know about the levels of relaxation, excitement or even repulsion that can be reached by simply stimulating someone's sense of smell. It is this sense, along with touch, that can be easily orchestrated to produce a satisfying and relaxing experience worth rebooking—and a powerful way to do this is by using aromatherapy.
Continue reading our Digital Magazine to learn more about using aromatherapy in seasonal wellness...
Bonnie Campbell is director of marketing and business development for KM Herbals, a manufacturer of handcrafted botanical and aromatherapeutic personal care products that offers professional and private label services. Campbell has served the KM Herbals team for more than five years, leading in the areas of business and product development, strategy, branding and storytelling. Today, she works to actively further the KM Herbals mission to provide quality self-care to and through community.