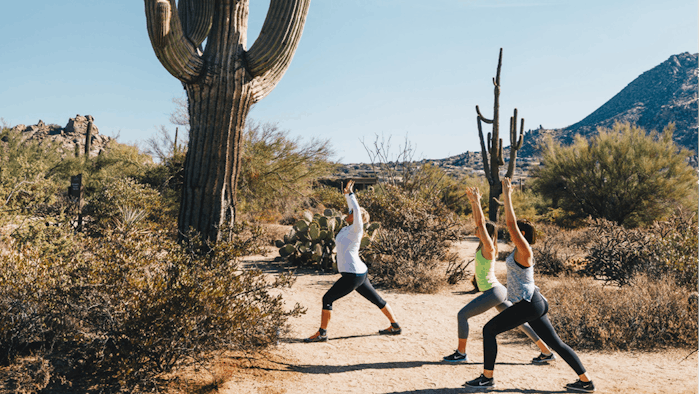 Courtesy of Four Seasons Resort Scottsdale at Troon North
Desert bathing, a unique wellness therapy offered at Four Seasons Resort Scottsdale, is inspired by the area's setting in the high Sonoran Desert. Set on 40 acres of vibrant desert blooms, the property is designed to blend seamlessly with the towering saguaro cacti and craggy rock formations. The adobe-style architecture and natural desert flora complement the landscape, and low light pollution adds to the effect when the desert is covered at night with a blanket of stars.
Here, Four Seasons Resort Scottsdale's senior spa director Jaana Roth tells all about this bespoke therapy that helps guests connect to nature to boost their well-being. 
Defining Desert Bathing
The idea for Desert Bathing came about as a way to invite our guests to spend more time in our natural setting, connecting with the outdoors and experiencing a true sense of place. Many cultures have long recognized the importance of immersing oneself in the natural world as a benefit to human health.
As a spa leader, I had followed the increased popularity of Forest Bathing on spa menus, and wanted to take this same concept and bring it to our spa in Scottsdale. Similar to Forest Bathing, Desert Bathing is designed to help guests unplug from technology and slow down. It is thought to help promote more energy and better sleep. The mood-boosting effects translate into a more relaxed state of mind. 
Related: Trending: Forest Bathing
Desert Bathing Treatment
The Desert Bathing experience begins with intention setting, along with a mindfulness and grounding exercise. Guests then embark on a meditative Zen Hike, where they are encouraged to stop, breathe and take in the beauty of nature. The Zen Hike incorporates intentional yoga poses along the way, allowing deeper connection to place and the natural desert beauty. The Desert Bathing experience concludes at The Spa with cooling, aromatherapy-infused towels and a brief re-centering exercise.
The key to Desert Bathing is to engage all five senses, guiding guests to let nature enter their ears, eyes, nose, mouth, hands and feet. They must take the time to listen to the birds chirping, see the different varieties of cacti and native plants, and smell the rich scent of creosote bushes and desert sage. They can taste the freshness of the air and the vibrant flavor of the desert; they should touch the branches of a palo verde tree and feel the sand beneath their feet.
With our unique desert environment, we wanted to expand our programming to focus not only on overall fitness, but also mindfulness and centering. The past two years have been challenging for many from a mental health perspective. Connection to nature is something we take for granted in Scottsdale, but many in city environments do not have access daily to nature and wide open spaces. Desert Bathing offers the perfect use of our dramatic, beautiful outdoor space, and it connects our guests to the beauty of our surroundings in a meditative, thoughtful way.
Related: [Study] Outdoor Activities Can Reduce Anxiety and Improve Mood
About the author: Jaana Roth, Senior Spa Director at Four Seasons Resort Scottsdale at Troon North, is a spa and wellness visionary who has spent nearly two decades exploring new frontiers in health and wellness, while studying ancient practices and traditions from the Middle East to Polynesia. 
Roth, a native of Estonia on the Baltic Sea, earned her bachelors degree from the University of Tartu. After moving to the U.S., she attended the Conrad Hilton College of Hotel Management at the University of Houston where she earned a masters degree in Hospitality Management.
In 1998, Roth joined Four Seasons at Four Seasons Resort and Club Dallas at Las Colinas, discovering her love of spa in 2001. Since then, Roth has guided spa teams across the company's vast portfolio including Four Seasons Resort Great Exuma at Emerald Bay (formerly a Four Seasons hotel), Four Seasons Resort Oahu at Ko Olina, and most recently, Four Seasons Resort The Biltmore Santa Barbara.
Jaana joined Four Seasons Resort Scottsdale in 2021, bringing a clear vision for the Sonoran Desert retreat: overall renewal that is lasting and meaningful.