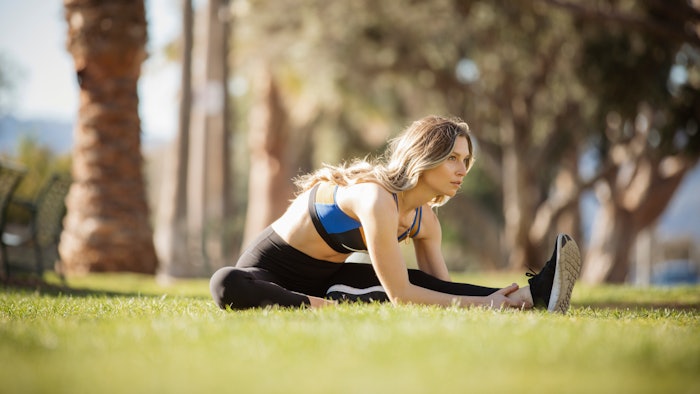 Several recent studies have looked at the benefits of exercise across a multitude of categories, from mental and physical health to financial savings. These 5 new findings confirm the importance of incorporating regular exercise into daily life.
Related: 'Exercise Snacking' Can Guide Clients To Healthy Habits
1. Exercise Outdoors Impacts Brain More than Indoor Workouts
A small 2023 study from the University of Victoria compared the impact of a 15-minute walk indoors versus outdoors, using electroencephalography to measure the impact on cognitive function. The study found that exercise outdoors had a significantly bigger impact on memory, concentration and thinking speed. The finding indicates that the environment may play a more substantial role in increasing cognitive functions than exercise, at least in terms of acute exercise.
2. Exercise is an Effective Treatment for Depression and Anxiety
University of South Australia researchers analyzed an extensive base of studies on the effects of physical activity on depression, anxiety and psychological distress. Findings suggest that physical activity is effective in improving symptoms of depression and anxiety across all clinical populations, though the magnitude of the effect varied across different clinical populations and longer-duration exercises had smaller effects than short or mid-duration activities. High-intensity exercise was associated with greater improvements in depression and anxiety than any other mode of physical activity. 
3. Modest Exercise Reduces Elderly Healthcare Costs
A 2021 study from the U.S. National Cancer Institute and Centers for Disease Control and Prevention found that people who start to regularly exercise before or during their middle age save between $824 and $1,874 a year on healthcare costs after they retire. The study found that the earlier they started modest exercise, the larger their savings are.
4. Regular Exercise Protects Against COVID-19 Hospitalization and Death
A 2021 study from Kaiser Permanente Southern California of 50,000 people who developed COVID-19 found that people who exercised for 10 minutes or less each week ended up hospitalized at twice the rate of people who exercised 150 minutes a week and were 2.5 times more likely to die. The researchers noted that consistently meeting physical activity guidelines was strongly associated with a reduced risk for severe COVID-19 outcomes among infected adults and they recommend efforts to promote physical activity be prioritized by public health agencies and incorporated into routine medical care.
5. Walking Briskly is Good for Aging Brain and Life Expectancy
Multiple 2021 studies found that brisk walking can improve cognitive abilities and cardiovascular health compared to a slow walking speed. The University of Texas Southwestern Medical Center found that older people with mild cognitive impairment showed significant improvements in brain blood flow, executive function and memory after a yearlong program of brisk walking. French medical researchers in the British Medical Journal tracking 3,000+ older people for five years found that people with the slowest walking speed had a significantly increased risk of death compared to those who walked fastest–including a threefold increased rate of cardiovascular death.