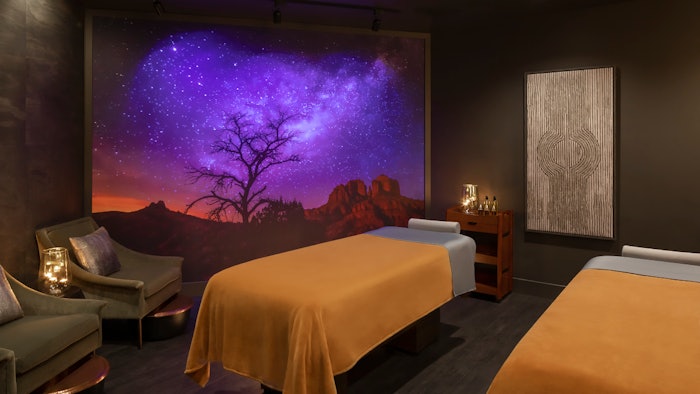 Photo Courtesy of Ambiente Sedona
Body Bliss Intentional Aromatherapy has announced a partnership with Ambiente Sedona to be the primary partner for spa products and protocols at the Sedona-based resort.
Treatments utilize three scents from the Body Bliss's Barefoot Botanist Collection: Calendula & Orange Myrtle, Chai Spice & Vanilla and Lavender & Blue Chamomile.
Opened at the beginning of February, Ambiente's layout consists of 40 cabins (called atriums) encased in floor-to-ceiling windows with views of the Sedona landscape and each atrium has a rooftop deck. Ambiente's spa has two treatment rooms and a couples' suite. There are two experiential rooms—a dark sky lounge with an in-harmony sound lounge and another with two Japanese tubs with nano-oxygenated water. 
Related: Canyon Ranch Forms Exclusive Partnership to Host Loeb Leadership Retreats
Pam Sculthorp, CEO of Body Bliss, said, "We are thrilled to partner with such an iconic property that is leading in sustainable design and luxury lifestyle. Our specialty is coming early in the development process to help our clients leverage the power of aromatherapy to reflect a property's local flavor in and out of the spa."
"We partnered with Body Bliss because we were looking for indigenous and local (companies)," said Ambiente spa consultant Deborah Waldvogel. "It's been fun getting to know this new team. We are just at the beginning of the relationship, so it will be a fun exercise to learn about the opportunities over the next few months. I continue to challenge myself to make spa treatments different, unique and memorable since these guests are coming here to celebrate special occasions. The Calendula Orange Myrtle is the scent of choice and guests love body treatments with Sedona Clay. Unlike any other spa that I've been involved with in my entire career, this spa is very couples-focused. Our guests come for milestone events."