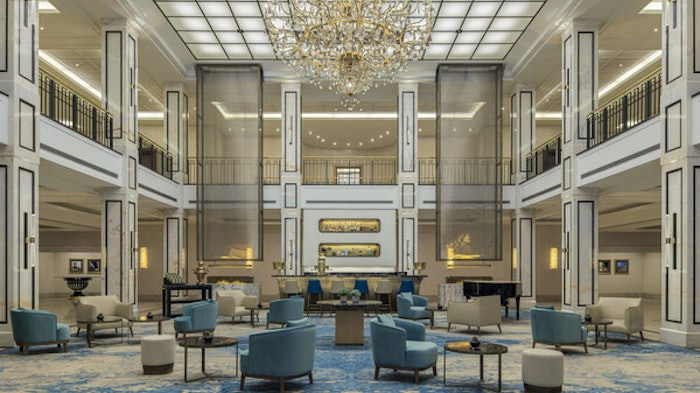 Photo courtesy of JW Marriott Hotel Berlin
JW Marriott unveiled its second property in Germany, the JW Marriott Hotel Berlin, with the new location's focus being a commitment to well-being. 
The Berlin resort is directly adjacent to Tiergarten, one of the largest urban gardens in Germany, offering almost 520 acres of forested ground, tree-lined paths and lakes. Throughout the restaurants, public areas and rooms, there is artwork reflecting the joy and energy of nature. 
The hotel's culinary offerings, led by Chef Friedemann Heinrich, offers eight dining concepts that are committed to high-quality produce, fresh local sourcing and sustainability. Guests can also pick fresh herbs for breakfast from the JW Garden or take seeds to continue growing produce at home. 
Related: JW Marriott Creates Biophilic Herb Gardens for Guests
Embodying the brand's commitment to well-being, JW Marriott Hotel Berlin is home to a revitalizing spa that offers a sauna, steam bath and two treatment rooms. Guests can enjoy access to services throughout their stay encouraging them to discover the city in a more relaxed, balanced manner. There are also two fitness centers where guests can maintain their routines during their stay. 
The ongoing development of the hotel will see the property's full transformation finalized by 2025, with the complete renovation of all guestrooms.
"The debut of JW Marriott Hotel Berlin is an exciting moment for the city, defined by our harmonious approach to nature," said Aramis Gianella-Borradori, General Manager of JW Marriott Hotel Berlin. "We look forward to welcoming everyone – from families to business travelers, solo travelers to group trips – in this haven in the heart of the city."