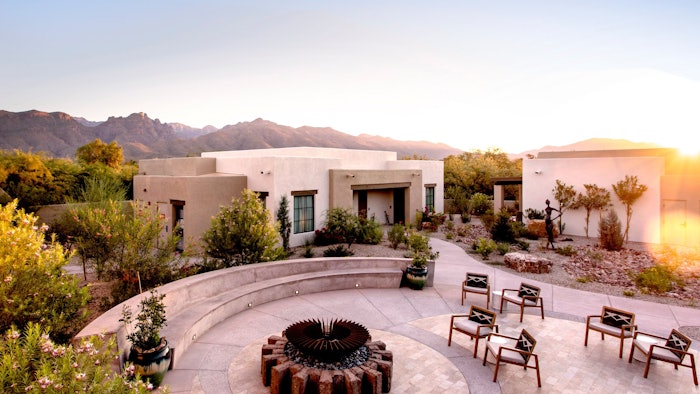 Photo Courtesy of Canyon Ranch
Canyon Ranch has announced the Canyon Ranch–VICI Growth Partnership with VICI Properties aiming to expand the reach of Canyon Ranch's integrative wellness offerings across North America and beyond. The fundamental purpose of the partnership is to add additional destination resort locations and wellness clubs in major urban markets and expand Canyon Ranch's digital capabilities.
Canyon Ranch also recently announced Texas as the first location to debut both a destination resort and Canyon Ranch Wellness Clubs within one market. The inaugural Wellness Club opens this fall in Fort Worth, with a Houston location in the summer of 2024, and the Canyon Ranch Austin resort opens in 2025. The two Canyon Ranch Wellness Clubs in development will be membership-based only.
"Over the last forty years, Canyon Ranch has been meeting people where they are in their pursuit of wellness. That may mean a relaxing, fun-filled weekend or a deep dive into something impactful and life-changing. With VICI's support, we can broaden and deepen Canyon Ranch's geographical and digital offerings and support more people than ever before," said Jeff Kuster, CEO of Canyon Ranch.
Related: Canyon Ranch Forms Exclusive Partnership to Host Loeb Leadership Retreats
The Canyon Ranch Ecosystem creates a reinforcing network of resorts, clubs and digital experiences where guests can continue to deepen their engagement in wellbeing. The Canyon Ranch Austin development will be located on a beautiful hill country ranch on the shores of Lake Travis and is designed by Lake/Flato Architects. The resorts will include state-of-the-art fitness programs, luxurious spa facilities, lounges and spaces and lectures and events.
Edward Pitoniak, CEO of VICI Properties, said, "At VICI we seek to invest in experiential real estate centered on experiences benefitting from longer-term secular tailwinds. We believe wellness is one of the most powerful trends of our time, and Canyon Ranch is the global brand best positioned for capitalizing on the growing demand for wellness and life enhancement around the world."
John Goff, chairman of Canyon Ranch, said, "We are thrilled to partner with the expertise and capital resources of VICI. This partnership offers Canyon Ranch the potential to accelerate our growth in an "asset light" manner, growing our reach and expertise. VICI shares our vision for growth and our confidence that the current environment is a compelling time to invest."