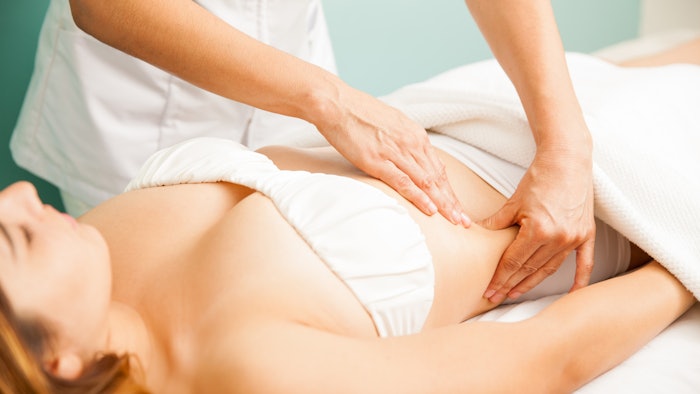 Lymphatic drainage treatments in spa spaces are growing in popularity, thanks to their ability to promote skin health and overall wellness.  
Moving lymph reduces fluid retention, removes waste and promotes circulation in general, which ultimately leads to glowing skin and a sleeker physique. It carries important nutrients throughout the body, so techniques that keep lymph circulating well can lead to better overall health and increased feelings of well-being.
Related: The Wellness Benefits of Lymphatic Drainage
In addition to body contouring and boosting circulation, lymphatic drainage helps decrease inflammation, stress, fatigue and the appearance of cellulite—all while boosting immunity and relaxation. 
It's no surprise that spa-goers are flocking to this comprehensive beauty and wellness modality, so we gathered these innovative spa treatments and ideas that get lymph moving and leave guests glowing—for your menu inspiration. 
Tailored Lymphatic Drainage
Clean Market Wellness Lab's recently opened NoHo location in New York City offers customized Lymphatic Drainage Massages that combine different lymphatic therapies based on guests' wellness needs. Sessions can involve techniques like:
Gentle, traditional Vodder Manual Lymphatic Drainage (MLD)
Vigorous fascia release and counter strokes
Vibration
Stretching
Although each session varies, the goal is always to assist lymphatic drainage and promote health and  well-being. 
Meanwhile, Josie Rushing, founder of Brazilicious in Austin and Round Rock, Texas, offers a Brazilian Lymphatic Drainage treatment that has gained popularity among celebrities including Lili Reinhart, Sophia Bush, Paris Berelc and many others.
The treatment, designed to detoxify and sculpt the body, begins with a warm up focused on specific points, improving blood circulation. Rushing describes her manual technique as: "Massage, sculpt, relax, repeat!" The hour-long, full body massage is a combination of relaxation and shaping that has clients clamoring for more. 
Detoxifying Essential Oils
According to Jodi Cohen, founder of Vibrant Blue Oils, there are specific essential oils that can enhance lymphatic drainage techniques by detoxifying the body.
Related: Essential Oil Treatments for Stress Relief
Lymph-stimulating oils include palmarosa, spearmint, vitex berry and ylang ylang. These essential oils work well to encourage lymphatic flow, especially when applied "on the sides of the neck, under the armpits and along the bikini line," notes Cohen. 
She also recommends using essential oils that help ease and release fascia, which in turn boosts circulation and stimulates the lymphatic system. There are plenty of oils that can work together for facial release, including: 
Angelica root

Black pepper

Cypress

Frankincense
Rose

Geranium

Vetiver

Rosemary
Additionally, anti-inflammatory essential oils and those that calm the parasympathetic nervous system are ideal for lymphatic drainage massages. They help the body reset and relax, which allows it to better receive and benefit from detoxifying treatments.