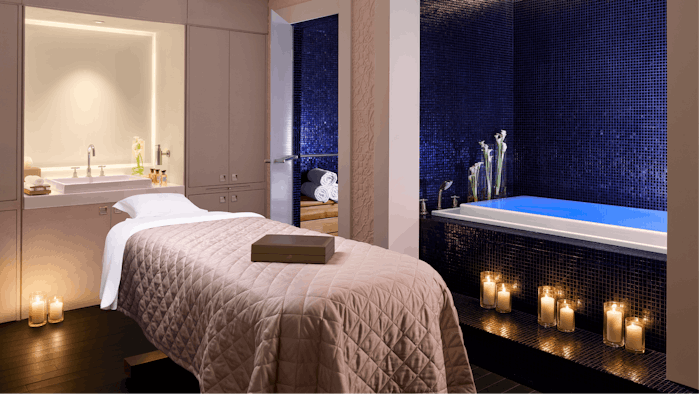 Courtesy of Hotel Metropole Monte-Carlo
Innovative wellness therapies keep your guests interested and talking about the service. Spice up your spa's offerings with treatments like these.
1. Lexus Wellness Destinations
The Lexus Wellness Destinations program provides guests with curated wellness packages and complimentary transportation to four luxury wellness resorts: Cal-a-Vie Health Spa and all three Miraval Resorts and Spas. 
At Cal-Vie Health Spa, the Lexus Living in Luxury package includes:
Four-night stay in a Mediterranean-style French Provencal villa with a terrace or balcony
All meals and nutrition breaks with gourmet spa cuisine
A cryotherapy session to eliminate waste, pain and inflammation
A metabolic test to better understand the guest's metabolism, or a BodPod session to gain knowledge of body fat and lean muscle mass
One specialty spa treatment
One rejuvenating facial
Two 50-minute massages
One private fitness session with a 50-minute take-home program
Intentional meditation ceremony 
Complimentary transportation in a luxury Lexus vehicle to and from the airport 
Meanwhile, Miraval's Lexus Drive Your Way to Wellness is a custom experience ranging from six to eight hours. Highlights include:
A complimentary Lexus vehicle to use throughout the experience
An intention-setting ceremony with a Miraval Guide
Scenic drives to various destinations, with guided hiking, biking and swimming expeditions
Chef-prepared picnic lunch and a locally oriented activity, such as kayaking, paddle boarding or birdwatching
2. Body Glow Wine Treatment
B Spa at Bardessono Hotel & Spa is a luxurious, LEED Platinum Certified wine country retreat in Napa Valley. Its new Body Glow Treatment uses Napa Valley Vino Polish, made with crushed grape seeds from Northern California merlot, finely milled grapeseed oil, lavender and other nutrient-rich ingredients. The scrub, which is made on site, it is applied allover, then the guest rinses off and receives a lotion application. Guests leave B Spa with radiant and hydrated skin. An ideal spa treatment for wine lovers, the Body Glow Treatments nurture the skin and increase circulation, release toxins and alleviate stress.
3. KYPRIS Skin Alchemy Treatments
KYPRIS Beauty treatments are now available at Sana Spa at the Etéreo, Auberge Resorts Collection in Riviera Maya. Sana Spa promotes the art of living well through sensory journeys, holistic therapies and the active manipulation of energy.
In addition to an extensive menu of personalized bodywork, curated retreats, and daily movement and mindfulness classes, guests can now enjoy three KYPRIS Skin Alchemy offerings that use botanicals and green biotechnology to cleanse, decongest, refine and oxygenate:
The 60-minute service includes a double cleanse; exfoliation; scalp, face and neck massage; and a custom finishing mask for a gorgeous glow.
The 90-minute treatment features a double cleanse and double exfoliation; scalp, face and neck massage; and customized finishing mask.
The 120-minute service includes a double cleanse and double exfoliation with a face, upper body and foot massage. Guests also receive a hot and cool stone facial massage, hot oil scalp treatment, and a customized finishing mask for complete relaxation and rejuvenation.
4. Givenchy Le Soin Noir Treatment
At Hotel Metropole Monte-Carlo's Spa Metropole by Givenchy, guests can experience the new Givenchy Le Soin Noir Collection of spa treatments featuring restorative algae. During their treatment, guests wear noise-cancelling headphones so that they can focus on their breathing. The treatment, designed to restore a natural glow while awakening all five senses, features massage using special kobido techniques that ensure guests leave feeling relaxed and refreshed.