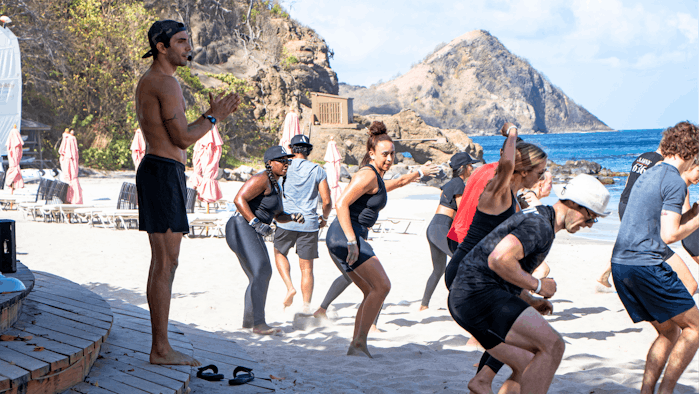 Courtesy of BodyHoliday/Akin's AARMY Retreat
Wellness retreats are only growing in popularity as spa-goers look for long-term health and well-being solutions. Here are three unique retreats perfect for the spring. 
1. Rock Shop Retreat
The Grand Hotel Golf Resort & Spa and Heather Thomson (of Real Housewives fame), hosted the Rock Shop Retreat. The wellness event incorporated yoga, body balancing therapies, spa treatments, nature experiences and life enhancing workshops.
The retreat also provided meals and non-alcoholic beverages, one-on-one development sessions with Thompson, wellness and nutrition counseling, fitness classes, intimate and group meditation, vision creation, fire pit gatherings and a swag bag sponsored by LAGOS Fine Jewelry.
Rock Shop Retreat attendees received sustainable tools to incorporate into their daily lives, allowing them to continue to pursue purpose, reach  goals and overcome barriers long after the retreat. 
2. Beach Fitness Retreat
At BodyHoliday St. Lucia, Akin Akman from Akin's AARMY hosted an immersive wellness retreat. An acclaimed fitness and SoulCycle instructor, Akman guided program participants through spin classes in the resort's tree house spin studio, beach boot camps and evening beach stretch sessions.
Participants also had access to other inclusive resort activities and amenities, including archery, scuba diving and volleyball,  Ayurvedic treatments, detoxing body scrubs and deep-tissue massages. They went home with the knowledge that, "Hydration is a must; vacations are not an excuse to skip workouts; and you can use a vacation to jumpstart a healthier lifestyle," according to Akman.
3. Divine Retreat
Grande Lakes Orlando worked with Divine Retreats to create an exclusive wellness event. Guests experience three days of curated and personalized programming supported by AdventHealth Celebration, as well as in-room wellness amenities, customized spa experiences, epicurean dining, dedicated connection sessions, a musical program and  panel events with medical experts.
Different package options are available, allowing each individual to create their own personal wellness retreat experience that brings out the best versions of themselves. Guests will leave with a community of peers and experts to support their wellness journeys.