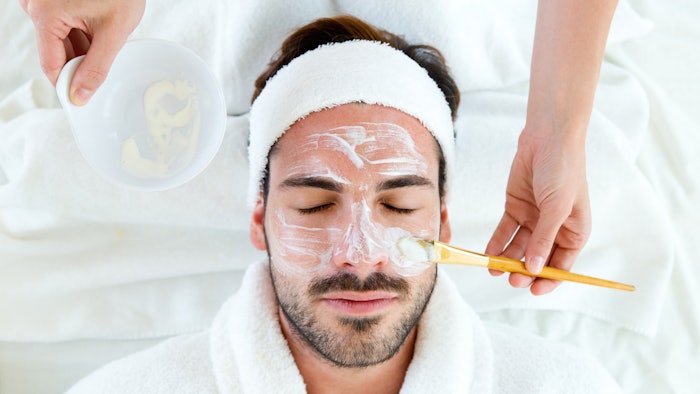 The men's health and wellness market has grown significantly, with more men visiting nail salons, spas and spending more or grooming overall. With an average annual health and wellness spend of $1,800 (as opposed to women's annual spend of about $1,000), men have the potential to be a business's most profitable customers.
According to the Mindbody 2021 Wellness Index, a trend forecast based on consumer behaviors, men are more likely to book services for facials, body hair removal, BOTOX or similar injectables, full-body treatments, and even permanent makeup or microblading. Here are five key takeaways from the report, as it relates to male spa-goers.
1. Health and Wellness Spending
Men now spend more on health and wellness than women, especially since the beginning of the pandemic, with 64% of men report being more focused on these areas compared to 56% of women. On average, men spend more on health and wellness per month than women: The average man spends $1,798 per year while the average woman spends $1,043.
2. Professional Beauty Services
Mindbody reports that men are more likely than women to participate in a number of beauty services, with 18% of men participating in facial services during the pandemic, compared to only 13% of women.
Some additional services that men tried during the pandemic include:
Advanced skincare (14% of men vs. 7% of women)

Full body skin treatments (13% of men vs. 6% of women)

Body hair removal (12% of men vs. 11% of women)

Permanent makeup/microblading (5% of men vs. 3% of women)

BOTOX or similar injectable

s (4% of men vs. 3% of women)
3. Low-Touch Treatments
During the pandemic, 40% of men agreed or strongly agreed (compared to 25% of women) that they were more interested in trying low-touch spa services such as cryotherapy, salt caves, infrared saunas and more.
4. Integrative Health Services
Men consume more integrative health services than women, according to the Wellness Index, with 42% of men reporting that they used alternative/integrative medicine during 2020 (compared to 30% of women). Of those men who engaged in integrative health services, 28% received massages more frequently (compared to 19% women); 27% meditated more frequently (compared to 25% women); 17% received health or life coaching more frequently (10% women); and 14% received nutrition counseling more frequently (7% women).
5. Grooming Routines
Finally, men were more likely to increase time and attention spent on their grooming routines than women, with a quarter of men saying that they increased time spent on their grooming regimens, compared to only 18% of women. The reason? The men reported wanting to look and feel good (60%), plus 49% had more time to do so. In addition, 43% just wanted to keep up with their grooming routines.