To report our October Showcase, DAYSPA was invited to experience the Ranch Creek Spa at Devil's Thumb Ranch Resort & Spa in Colorado. We couldn't fit all the juicy details in our print coverage, so here's the extended version!
I couldn't wait for my first trip to Colorado. I'd asked a cousin, who lives in the state's community of Conifer, to recommend a great spa to check out, and she urged me to experience the "rustic elegance" of Devil's Thumb. It all fell into place when I was invited to stay overnight at the resort and partake in a spa treatment.
First Impressions: Devil's Thumb Ranch Resort & Spa is in Tabernash, a 90-minute drive from Denver, up through the Rocky Mountains and just past the ski resort town of Winter Park. Driving up the windy road, I'd never have guessed I was heading to my new favorite vacation spot, a place where I would see more rainbows in three days than I've seen in the last several years of living in LA.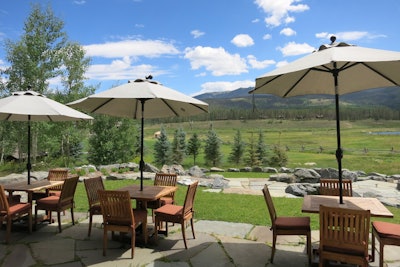 Located on 6,000 acres of meadows and woodlands, the resort was designed with nature in mind. Known for its award-winning sustainability (including an EPA honor) and eco-friendly features such as geothermal heating, structures built with local reclaimed beetle-kill wood, its own water filtration and purification system, solar panels, organic spa products and local and sustainable farm menu items, Devil's Thumb treads lightly on its land. In fact, land preservation is a priority for the owners, who have used less than 2% of the acreage for the development of facilities and buildings.
The resort and its surrounding property are stunning. Horses graze in a meadow in view of the restaurant, blooming wildflowers appear around every turn, vintage and locally commissioned artwork is meticulously placed, and the grounds are impeccably clean. I knew I was in a special place when half the staffers I encountered remarked, unprompted, how much they loved their job.
It was a bright, sunny day when I strolled up the windy path to the property's Ranch Creek Spa. The 18,000-square-foot building, open in its current location since 2008, boasts 14 treatment rooms (including two couples' suites), an outdoor hot tub, steam room, dry sauna, aromatherapy room, yoga studio and a full menu of treatments using organic products from Éminence, TARA Spa Therapy and Zents, a Colorado-based luxury body care line.
Once inside, I was greeted warmly and proffered a pair of spa shoes, a comfy white robe and a cup of orange-infused water. The gentle lighting, wood interiors and cozy rooms dotted with couches and fireplaces were so relaxing that I was ready to cancel the rest of my Colorado trip and move right in.
The Service: My esthetician Shannon brought me to a treatment room, where calming music played and I sank into a soft, warm massage table, knees and head elevated. She handed me a warmed pad to hold over my stomach and covered me with a Native American blanket.
I'd requested the Émi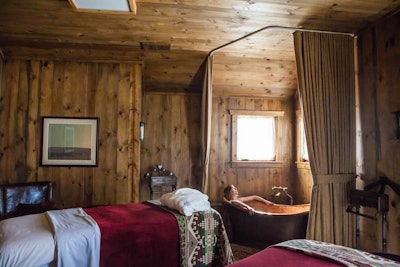 nence Anti-Aging Microderm Facial (50 min./$160). Shannon explained that each treatment is individualized and customizable, then analyzed my skin and asked if I had any concerns. I'd never tried microdermabrasion, and though I was eager to, I was concerned that, given my sensitive skin, it would halt my plans to be outdoors in the bright Colorado sun for the next few days. Shannon put me at ease when she said she would lower the level of the microdermabrasion machine significantly.
The treatment started with a steam-infused double cleanse—first with a deep gel cleanser and then with Éminence's creamier Coconut Milk Cleanser—to soften my skin and make it more receptive to the treatment. Next came the microdermabrasion. It was so gentle that I hardly felt more than a tickle, and wondered if I should have been braver and tried a higher level, but Shannon assured me that it was a good idea to start low and see how my skin reacted. This was followed by the application of a Lime Refresh Tonique, which is rich in vitamin C and acts as an antibacterial, ideal for use during microdermabrasion or extractions. Next, Shannon applied a Strawberry Rhubarb Masque, which smells as delicious as it sounds and contains vegan-friendly hyaluronic acid.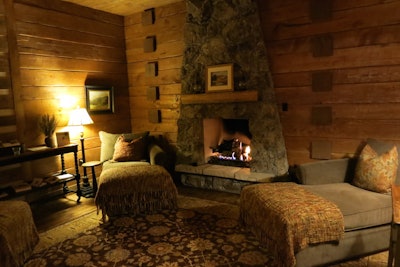 While the masque worked its magic, Shannon (who is also a certified massage therapist) performed a hand and arm massage with TARA Spa Therapy's lavender sage body oil blend, which relaxed whatever tension lingered from my flight and drive up the mountain. After the mask was removed, another round of Lime Tonique was applied, followed by Éminence's Bamboo Firming Fluid.
Shannon then applied Éminence's antioxidant-rich Firm Skin Acai Booster-Serum and Tropical Vanilla Day Cream, complete with SPF 30+. My treatment ended with a layering of Neroli Age Corrective Eye Serum and Wild Plum Eye Cream, and a slathering of Citrus Lip Balm, which also contains SPF.
After my treatment, a tiny piece of dark chocolate, also from Éminence, was waiting for me on a nearby table. Despite my freshly applied UV protection, I wasn't quite ready to face the sun, so I wandered through the spa building, admiring the artwork and rich warm tones of the wooden walls. Eventually, I sank into a sofa in the upstairs lounge, enjoying the fireplace's crackling flames with a cup of peppermint, licorice root and basil tea.
Noteworthy: Devil's Thumb Ranch takes its commitment to the environment seriously, and this is evident across the property, from the vast untouched landscape that surrounds the resort to the local, natural reclaimed wood incorporated throughout the spa building. I especially loved the Ranch's Broad Axe Barn, an 1850s-era barn from Indiana that was "rescued"—literally dismantled, shipped to Colorado and reassembled—to become the frame of the property's 25,000-square-foot multi-use meeting, event and activities center. Nature was a big part of the experience here, and there was so much natural beauty everywhere I looked. Also notable: the slew of nooks and crannies throughout the spa and other on-site buildings. It felt like everywhere I turned, there were unique art pieces and intimate seating areas in unexpected places.
I stayed on property for three nights, and it rained, almost like clockwork, late in the afternoon each day. But by dinnertime the showers had retreated and left gorgeous, arching rainbows in their wake, sometimes two side-by-side. Combined with the perfect sunlight of the golden hour illuminating the nearby mountains and it was easy to feel like I was in one of the most beautiful places on earth.—Stephanie Carbone
Save
Save