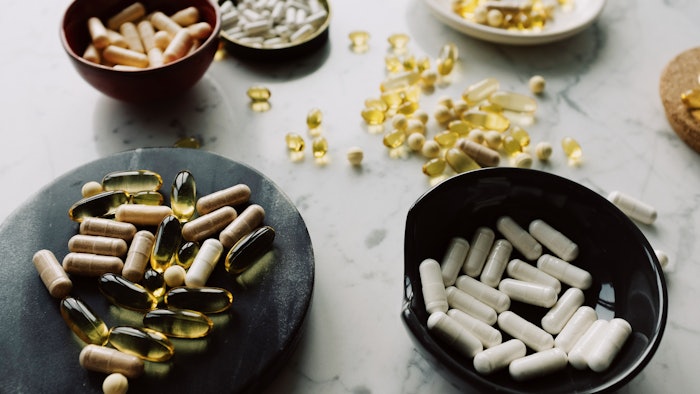 Heading into 2023, ingestible wellness and beauty supplements are gaining popularity for their endless physical and mental benefits. Beauty supplements are now a $6.43 billion category, with 76% of consumers expecting beauty brands to offer wellness supplements that complement traditional product offerings. 
According to a report by Cosmetics Business, there are five categories within the beauty supplement market that will makes waves in the wellness industry this year. Here are the trends to look out for in 2023. 
1. Skin Care Snacks
Beauty snacks, otherwise known as "functional snacks" are a growing source of innovation within supplement brands. These snacks can range from fruit or nut bars to sweet treats, and all have the potential to provide skin, health or wellness support. 
It is a niche that brands expect to continue to experience growth in 2023, as consumers have displayed a increasing interest in nutrition packed snacks. 
2. The Brain & Beauty Connection
Estimated to be worth $15.74 billion by 2023, according to Grand View Research, brain health supplements are designed to boost focus, rid brain fog and sharpen the memory. Supplements that combine beauty and cognitive benefits will remain at the forefront of consumers minds moving forward. 
This trend and the growing research into psychodermatology, point towards beauty supplements containing cognitive-enhancing nootropics being an opportunity on the brink of booming. 
Related: [Study] Nutritional Supplements On the Rise
3. Sun Support Supplements
Supplements that protect the skin from UV exposure while also boosting the protection of topical sunscreen appear to have a bright future in the beauty industry. 
As consumers are paying more attention to the importance of sun care, professionals have the opportunity to market these products as an addition to their sunscreen retail offerings. Brands that have recently launched sun support pills include Dr. Sturm, The Nue Co and Zitsticka. 
4. Biomarker Beauty
Customization of skin care treatments, wellness offerings and beauty supplementation is currently trending across all industries. There is no one size fits all beauty solution, so personalization is key for consumers. 
Biomarker beauty is emerging as a trend for brands to create personalized skin care regimens, and now, beauty supplements. Brands are now using blood testing to provide evidence-based recommendations to create customized wellness products. 
5. Sea Moss Potential
Sea moss is known for it's skin care and nutritional benefits, and has recently taken off on social media platforms. Users have been ingesting sea moss gel for its ability to improve digestion, clean brain fog and increase libido. 
Although the ingredient appears to provide wellness benefits, it is also unregulated and lacking in scientific evidence to support any skin improvement claims. This leaves an opportunity for beauty brands to utilize sea moss in future supplement formulations and expand research into its possible benefits.