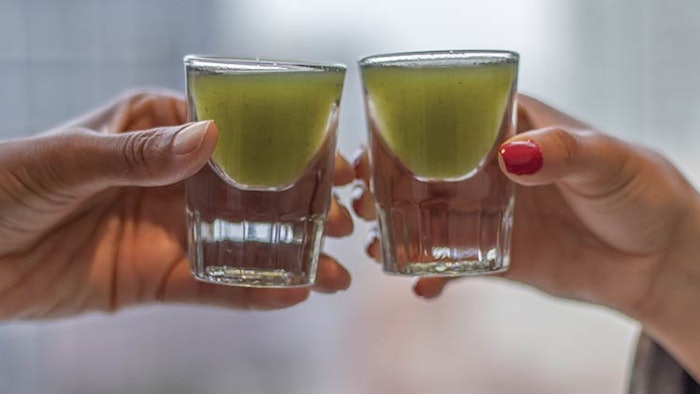 At the W Dallas - Victory in Texas, AWAY Spa Dallas is a self-care sanctuary offering guests an opportunity to relax, refresh and detoxify. In addition to its fully customizable Detox Facial and Detox Massage—featuring energizing oils and techniques to boost metabolism—the spa provides this special Detox Drink to clients during their visit. It delivers a quick health boost and was created to improve energy and encourage good digestion—and it's tasty, too.
Offered as a complimentary amenity before or after a treatment, this diminutive shot packs a nutritious punch, thanks to vitamin-rich cucumber, which is also super hydrating and high in antioxidants. Mint adds flavor while supporting digestion, and lemon provides an always appreciated dose of vitamin C.
"The detox shot is a perfect way to start or end a visit to our spa," says Felicia Powers, spa coordinator at AWAY Spa Dallas. "Our visitors are always delighted when they try it and comment on how delicious it is." Indeed, it's so popular that the spa recently shared this recipe with guests who wanted to enjoy it at home, furthering their self-care between visits.
Detox Drink
1 lb. cucumbers
2 cups mint
11/2 cups fresh lemon juice
1/2 cup agave nectar
14 oz. water
Blend all ingredients together and serve in a shot glass.