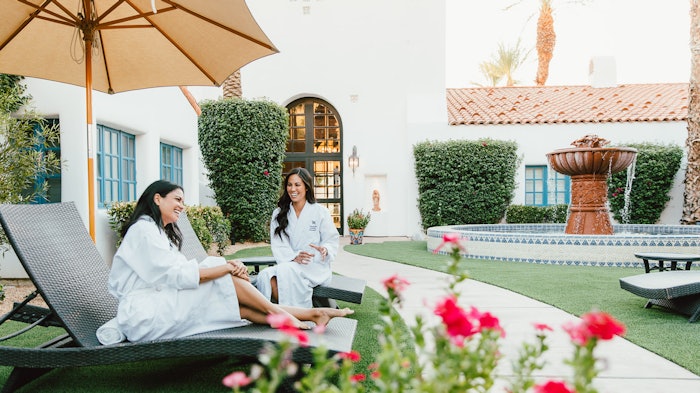 Photo courtesy of Spa La Quinta
La Quinta Resort & Club's spa and wellness center, Spa La Quinta, launched a series of recovery focused treatments that helps guests renew their health and wellness goals for the new year. 
Spa La Quinta's recovery driven-menu of fitness options add to an already developed list of treatments, ranging from seasonal offerings, citrus infusions and traditional skin and bodywork. 
The newly launched spa treatments include the Restorative CBD + Cryo Massage, which uses cryotherapy and therapeutic grade full spectrum CBD to provide pain relief, and target inflammation and tight muscles. The Ignite Balance CBD Candle Massage combines the calming properties of warm candle wax with the tension relief of CBD for a healing treatment. The Ultra Lighting + Cryo Toning Facial aimed to minimize pores, reduce puffiness, tighten and stimulate collagen for a youthful complexion. 
Related: Spa La Quinta Unveils Updated Wellness Programming Upon Reopening
Spa La Quinta also debuted private Fascial Stretch Therapy. This 60-minute one-on-one session gently eases the connective tissue that surrounds muscles, bones, nerves and internal organs through undulated movements, controlled breath and careful assistance, enabling substantial relief as these connections are relaxed. Additionally, the spa has debuted a new Stretch and Roll fitness class, utilizing vibrating massage technology.
The destination launched a technology rental program utilizing powerful percussion tools. The program includes: the Hypervolt 2 Pro, Venom Back (amplifying the power of heat and vibration), Venom Shoulder (targeting shoulders and joints), the Normatec Pro Full Body (designed for legs, hips and arms to improve performance), Hyperice X (for instant contrast therapy), and the Vyper 3 along with the Hypersphere (for self-myofascial release). 
"We are thrilled to debut this original and restorative spa menu for 2023," said Spa La Quinta's Director, Christina Cabrera. "With year-round sunshine and plenty of outdoor recreation options, many of our guests are incredibly active, so this is an excellent, cutting-edge addition to ensure an all-encompassing recovery and wellness experience for the year ahead."