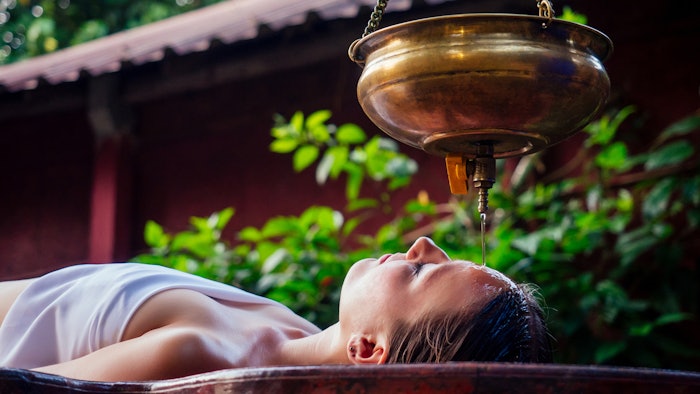 Spa-goers are always looking for services that incorporate spiritual practices and good energy work. Here are three spiritual spa services from top destinations. 
1. Crystal Balance Facial
The Springs Resort, a hot springs destination in Colorado, is offering a range of facials using ISUN wildcrafted and organic skin care products. The signature Crystal Balance Facial uses ISUN herb-infused oils and crystals in a 12-point marma massage. Because the marma points are energy pathways where flesh, veins, arteries, tendons, bones and joints meet, guests are left feeling calm, with more toned facial muscles and less fine lines. The energy-balancing massage is followed by a series of face masks that purify, calm, exfoliate and deeply moisturize.
Related: 3 Spiritual Wellness Services at Spa Alila
2. Third Eye Activation
Vibe Health Lounge prides itself on putting a modern twist on ancient remedies. Its most recent Transforming Ritual is the Third Eye Activation, a 90-minute experience combining sound and light therapy with Ayurvedic shirodhara.
The treatment begins with an opening ritual in which the therapist clears the space with Palo Santo and sets an intention with the guest. Tuning forks, crystal bowls or Tibetan chimes are grazed over the guest to release stagnant energy, and then aromatherapy, breathwork and a guided meditation allows them to rest and digest. The opening ritual ends with a foot cleanse using oils and warmed gemstones.
Next, the guest receives a 20-minute shirodhara treatment, where warm nourishing oil is slowly released onto their third eye (center of the forehead). Shirodhara benefits include stress relief, decreased headaches, and better sleep and intuition.
Related: An Ayurvedic Experience at Glen Ivy Hot Springs
While the client's eyes remain closed, the Lucia N°03 light replaces the space of the copper shirodhara vessel and uses light frequencies to interact with and open the third eye, deep in the center of the pineal gland. The pineal gland receives the light through closed eyes and sends signals that regulate brain waves and the central nervous system, simulating deep meditation and fully relaxing the body and mind. 
3. Moon Bath Experience
The Moon Bath Experience is a luxe in-room amenity at The Joseph, a Luxury Collection Hotel, Nashville. Each experience includes one of four bath teas that correspond to the current cycle of the moon, meant to be used in the suite's deep soaking tub. The tea is steeped and delivered to the hotel suite, along with an intention guide, bath salts and face mist for a head-to-toe, DIY wellness experience.