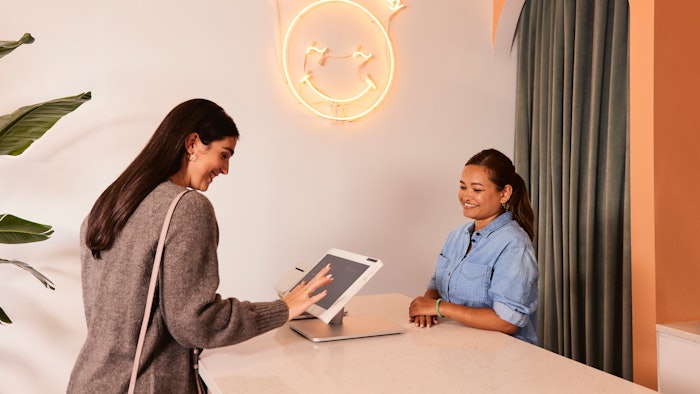 For the beauty industry, 2021 has been encouraging, with reservations for beauty treatments shooting up by 428%. Booking app ClassPass has released its 2021 Fitness & Beauty Trends Report, which reveals the fitness, wellness and beauty trends that consumers were obsessed with during 2021, based on reservations made through the platform. The report looks at what's new and what was left behind this year, as well as what will be emerging in 2022 for salons, spas and offices. 
Related: Top 10 Nutrition Trends of 2022
Top 10 Beauty Treatments of 2021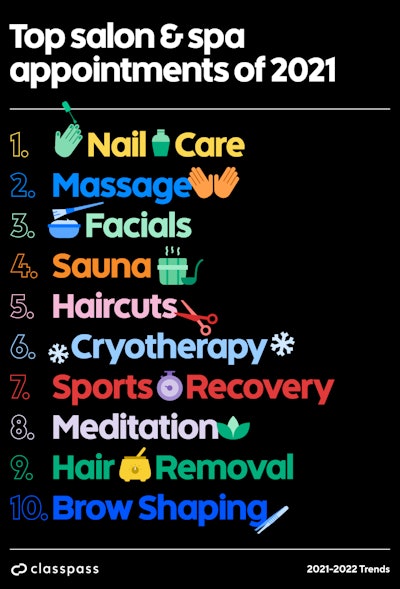 The definition of self-care has expanded, and more consumers are specifically looking for wellness and beauty appointments. The top treatments ClassPassers booked in 2021 included: 
Nail Care
Massage
Facial
Sauna
Haircut
Cryotherapy
Sports Recovery
Meditation
Hair Removal
Brow Shaping
Many of these appointments are being booked before weekend events, making Thursday, Friday and Saturday the most popular days for consumers to visit a spa, salon or fitness center. Nail care appointments (manicures and pedicures) ranked No. 1, as many clients found it to be an easy self-care ritual; they are also the most likely to be repeat customers. Nail appointments are booked most often on Fridays at 11:00 a.m.
Sports recovery was an emerging trend in 2021. It can include recovery boots, light therapy and chiropractic services, as well as salt caves, sound therapy, hyperbaric chambers and anti-gravity treadmills. 
TikTok also took the world by storm in 2021, making it a catalyst for many beauty and wellness trends. In the beauty TikTok world, gua sha and jade rollers became increasingly popular, which led to an uptick in consumers seeking out facials. 
Related: Top 7 Wellness Trends for 2022
City-Specific Trends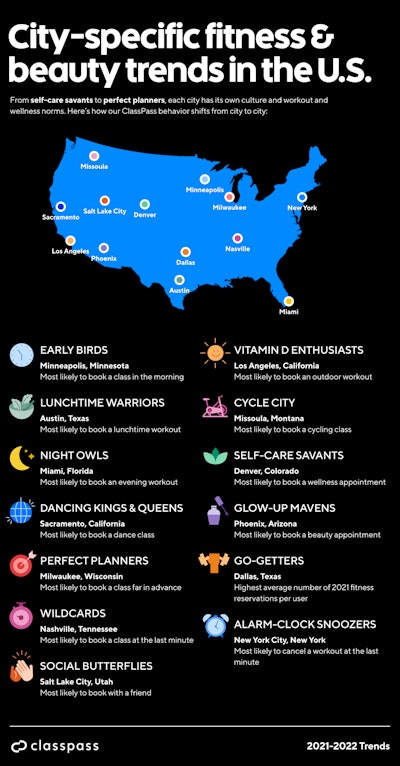 Each city tends to lean toward or away from trends in the U.S. These behavior switches between cities are important to note, so that professionals can keep tabs on who guests are and what they want. For instance:
Minneapolis, MN: These consumers tend to make early bird reservations. 
Austin, TX: Guests tend to snag lunchtime reservations.
Milwaukee, WI: Consumers often plan and book their reservations far in advance. 
Denver, CO: These consumers are most likely to book a wellness appointment. 
Phoenix, AZ: Guests are most likely to book a beauty appointment.