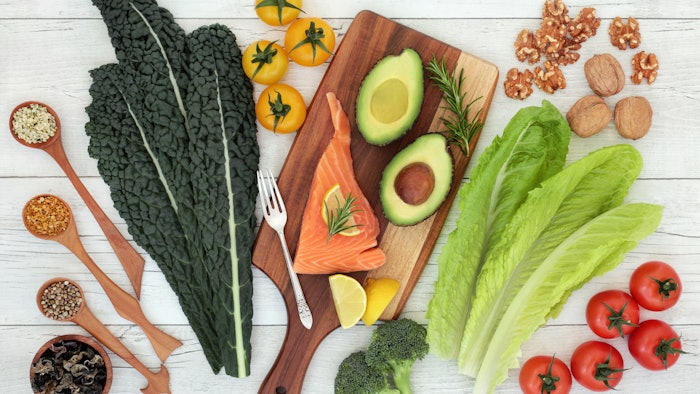 With a focus on healthspan over lifespan and immunity support leading the pack, Natural Grocers has released its top 10 nutrition trends for 2022.
"People are considering how their everyday choices affect their long-term health, and our trends for the coming year reflect how those decisions are intricately tied together to shape our well-being and our ability to thrive and flourish," says Shelby Miller, MS, Natural Grocers' manager of scientific affairs and nutrition education. 
Here are the top 10 trends to keep in mind. 
Related: 5 Nutrition Trends Consumers are Seeking in 2022
1. Healthspan vs. Lifespan
While many desire to live a long life, this concept has shifted to focus more on a person's "healthspan," which Natural Grocers defines as the years that a person is healthy and free of disease. Nutrition in 2022 will not only focus on how long we can live, but on how healthy we can live. 
Consumers will seek support in diet, lifestyle and supplements regardless of their age or current health status. Health can be maintained at any age through the modulation of inflammation in the body, supporting healthy blood sugar balance, reducing free radicals, supporting the immune system and maintaining liver health.
As the awareness of this trend grows, so will consumers' desire for supplements. Stock your retail shelves with ingestibles, vitamins and supplements that you can recommend for supporting guests' health. 
Related: 9 Natural Ways to Boost Immunity
2. Immunity Support
The pandemic caused a lot of buzz about immune system support, and this will become a daily practice moving into 2022. Immune resilience is about maintaining and training the immune system to always be at its peak performance.
Expect to see guests begin to put an emphasis on getting sufficient amounts of immune-building nutrients daily (like vitamins C and D, and quercetin) while working to improve their diet by reducing sugar and industrial seed oils. Call out any kind of immune support services, food or drinks on your offerings menu, and stock your shelves with immune-boosting supplements.
Related: Key Nutrients and Nutrition to Build Immunity
3. Women- and BIPOC-Owned Businesses
The wellness industry is growing exponentially, and while women and BIPOC (Black, Indigenous, People of Color) have always been crucial to its success, more women- and BIPOC-owned businesses will bring their knowledge and expertise to the industry in 2022. 
Consumers are looking to support these businesses, which run the gamut from supplements to body care to natural foods. Make sure to see where you can promote, highlight, support and add BIPOC-owned businesses into your spa. 
4. Pollution Nutrition
Pollution has been a major concern ages, and people are now looking to make food choices that protect their bodies from pollution. They're also on the lookout for agricultural practices that minimize air pollution, such as regeneratively raised animal products and USDA-certified organic products.
Consumers will also be defending their bodies from the effects of pollution by optimizing foundational nutrients, like omega-3 fatty acids; vitamins B, C and E; antioxidants; and other nutrients like sulfurophane. 
In the spa, consider transitioning meat items offered on your food menu to regenerative and pasture-raised foods. If you are already doing this, call it out on the food menu so that guests are aware. You can also provide pollution-fighting supplements in your retail area: omega-3s, a B complex and sulfurophane. 
5. Indulging Sensibly 
The pandemic caused a lot of snacking for comfort. As such, many consumers began searching for snacks that felt indulgent but were healthy. This concept of "sensible indulgences" will continue to rise in 2022, with people looking to enjoy their favorite foods while meeting their health and wellness goals. 
Offer healthy snacks that taste delicious in guestrooms, suites or a spa snack cart.
6. No More Burnout
It's known that chronic stress take a toll on mood and emotions. There will be a great need to triumph over burnout in 2022, and consumers will search for adaptogens like rhodiola and cordyceps mushrooms, as well as nutrients like vitamin B1 and phosphatidylserine, which can help boost motivation, support energy and decrease fatigue.
At the spa, provide ingestibles containing rhodiola, cordyceps mushrooms, B1 and phosphatidylserine in your retail section, and highlight treatments, retreats and other wellness offerings that fight stress and fatigue. You can also consider creating a package that combines treatments and experiences that help guests de-stress and avoid burnout. 
7. Metabolic Maintenance
A recent study showed that metabolism doesn't decline in our 30s as it was previous believed, but instead starts to decline when we're well into our 60s and 70s. This means that there will be an increased demand for products and lifestyle habits that help maintain metabolism by preserving muscle mass and supporting mitochondrial health.
Supplements like branched-chain amino acids (BCAA), acetyl-L-carnitine, CoQ10 and alpha lipoic acid (ALA) will grow in popularity. There will also be a shift in fitness trends toward healthspan-promoting exercises like yoga, strength training and walking. Mood-boosting exercises like forest bathing will remain popular as well. 
Make sure to offer healthy, protein-rich recipes for guests to eat. Highlight treatments like lymphatic drainage massages that help to boost metabolic function as well, and provide ingestible products containing these nutrients on your retail shelves. Be sure to call out the metabolic benefits of your yoga, fitness forest bathing activities, too.
8. Virtual Wellness
Thanks to the pandemic, virtual wellness is here to stay, from therapy to fitness and more. Consumers will continue taking advantage of wellness offerings that can be provided in the comfort of their own home—including nutritional counseling and health coaching. Make sure guests know what virtual offerings you have, and consider teaming up with a health coach or registered dietician to beef up those options.  
9. Functional Flavors
It's no secret that herbs and spices make food more flavorful, and thus, more enjoyable. There is a growing demand for functional ingredients, spices and herbs that increase the flavor and nutritional value of consumers' favorite foods. Expect to see cinnamon, turmeric, ginger, basil, thyme, sage, rosemary and the like take center stage in meals.
As these ingredients gain popularity, see how you can add them to current dishes or make new dishes that highlight them. 
10. Trusted Suppliers
With supplements factoring heavily in many of these upcoming trends, it's no wonder that consumers are looking for trusted sources for their nutrition. They want to know the ethos of the business and buy from a trusted, familiar face. Thus, consumers are relying on brick-and-mortar retailers to provide this feeling of comfort and trust to them. 
Make sure you are becoming that familiarity and comfort with your guests and clients. If they are looking for a trusted place to buy their supplements let your business be known as that place for them. 
Bonus Trend: Healthy Pets!
As people take an increased interest in their own health and well-being, they're doing the same for their furry friends. Pet owners are now applying similar standards to their pets' health, increasing demand for organic food and treats, as well as supplements that support anxiety, digestion and joint health. 
You know your core clientele; if the majority match the above description, it may be beneficial to partner with a local business that centers on pet health and well-being. Whether you co-host a fun wellness event or include pet supplement samples with guests' ingestibles purchases, the possibilities are endless.
In a more general sense, with so many taking more invested interest in their pets, a simple "How is your puppy?" can go a long way toward building a great therapist-client relationship.